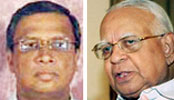 Add caption
Shamindra Ferdinando
The Tamil National Alliance (TNA) yesterday (29 Aug ) told visiting United Nations Human Rights High Commissioner Navanethem Pillay that the post-war agreement, between President Mahinda Rajapaksa and UNSG Ban Ki-moon, should be implemented in full.
The TNA asserted that it was the responsibility on the part of the UN to ensure that the government adhered to the agreement. Having led the TNA delegation for talks with Pillay, at the Cinnamon Lakeside, Trincomalee district MP Sampanthan told The Island that they focused on the agreement finalised in Colombo following the UNSG's visit on May 23, 2009.

The final battle was fought on the banks of the Nanthikadal lagoon on May 19, 2009.
Responding to a query, the veteran politician said that a joint statement, dated May 26, which addressed three critical matters, was meant for implementation, though the government was yet to fulfil its obligations four years after the conclusion of the conflict.
The TNA Leader said that President Rajapaksa and the UNSG agreed that addressing the aspirations and grievances of all communities and working towards a lasting political solution was fundamental to ensuring long-term socio-economic development.
The second agreement dealt with the resettlement and rehabilitation of those affected by the conflict.
MP Sampanthan said that finally Sri Lanka reiterated its strongest commitment to the promotion and protection of human rights, in keeping with international human rights standards and Sri Lanka's international obligations.
"The UNSG underlined the importance of an accountability process for addressing violations of international humanitarian and human rights law. The government assured the UNSG that it would take measures to address those grievances," the TNA chief said.
The TNA's chief ministerial candidate for the Northern Provincial Council polls, former Supreme Court judge C. V. Vigneswaran and MPs M. A. Sumanthiran, Mavai Senathiraja and Suresh Premachandran participated in the discussion.
Sumanthiran told The Island that the government hadn't fulfilled any of the commitments it made to the UNSG. Referring to the killing of five students in Trincomalee and the massacre of 17 aid workers at Mutturm at the onset of Eelam War IV, Sumanthiran said that there was no likelihood of a credible investigation.
He said: "We also raised several other issues, including heavy military presence in the Northern Province, restrictions placed on the community, gang rape of women in Pooneryn and Vishvamadu, attacks, long-term detainees as well as the failure on the part of the government to implement the recommendations made by the Lessons Learnt and Reconciliation Commission."
MP Sumanthiran alleged that the problem was the government was not ready to share power. Instead of implementing the 13th Amendment to the Constitution an attempt was being made to do away with even the existing powers.
August 30, 2013,
IS