Mindboggling amounts paid by Sri Lanka to PR and lobby firms in US.
Sri Lanka has paid out massive amounts to American lobbyists, legal and public relations companies between 2008 and 2014. The figures disclosed below are based only on records the Sunday Times was able to trace after extensive research.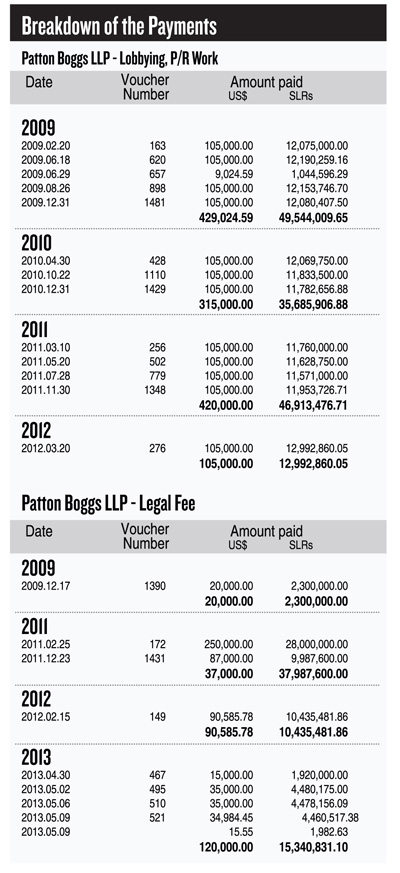 Table-1
Numerous other payments were made without public oversight, on the instructions of a privileged clique that held itself above supervision. Questions must now be asked of officials who authorised such outflows, particularly the million dollar payments channeled through the Central Bank of Sri Lanka (CBSL) between May and November 2014.
It became clear during our investigations that some companies in the US had declared far smaller amounts under the Foreign Agents Registration Act (FARA) than they had received from Sri Lanka. This is true of monies paid via the Central Bank, bypassing the Ministry of External Affairs, Cabinet, Parliament and the diplomatic mission in Washington, DC. Lobbying is common practice on Capitol Hill.
Additionally, disbursements have been made through the Washington Embassy while Jaliya Wickramasuriya, a cousin of the then President Mahinda Rajapaksa, was Ambassador. The Sunday Times sought information from the Ministry of Foreign Affairs. According to available records, a total of US$ 2,885,566.37 was doled out in installments to five companies between February 2009 and May 2014. The Ministry has calculated this amount as Rs. 339,552,504.08.
This is only a fraction of what was actually spent. Some records are simply not available at the Embassy or at the Ministry of Foreign Affairs. For instance, between 2011 and 2013, the company Girgenti Sienna Brielle received US$ 115,993.33 (which is Rs. 16,146,851.50 at prevailing rates) in payments. Those receipts were not provided to us by the Ministry of Foreign Affairs.
Some firms have charged expenses – such as communication, subsistence, travel and transportation – separately. There is no breakdown for these amounts in the ledgers of the Sri Lanka mission in Washington. Often, figures cited by companies in official FARA filings do not correspond with records maintained (if at all) by the Sri Lankan Government.
Between 2009 and 2013, Patton Boggs LLP was issued several payments of US$ 105,000 each for lobbying and public relations work. In one official FARA filing made in February 2011, it also claims to have received US$ 12,551.30 (Rs. 1,747,203.72) for expenses such as long-distance and mobile phone calls, internal transport, subsistence and duplication. It is not clear whether such sundries were billed separately throughout the contract.
Patton Boggs was compensated, too, for legal advice. This pertained mostly to litigation filed in the US Federal Court in Washington, DC, under the caption Kasippillai Manoharan et al v. Percy Mahendra Rajapaksa. Ragihar, Dr Manoharan's son, was one of five students killed during a Special Task Force (STF) raid on the Trincomalee seafront in 2006. The case was eventually dismissed after the Obama administration granted immunity to the then President Rajapaksa.
The primary counsel for Mr Rajapaksa in the Manoharan case was Mitchell R. Berger, a senior lawyer who charged US$ 885 per hour. "In addition to our fees for legal services, we also charge separately for certain costs and expenses as described in the enclosed statements," Mr Berger notifies Ambassador Wickramasuriya, in correspondence seen by the Sunday Times.
The advance retainer deposit was US$ 250,000. The agreement with Patton Boggs was first signed in 2008. One of the Associates at Patton Boggs LLP was Vinoda Basnayake. He is a close friend of Sajin de Vass Gunawardena-unofficially, President Rajapaksa's point man and dealmaker; officially, the Monitoring MP to the Ministry of External Affairs. In 2014, Mr Basnanayake joined another company called Nelson Mullins Riley & Scarborough LLP and quickly secured millions of dollars worth of Sri Lankan business for them. The trail of those payments is still being investigated.
The other companies paid through the Sri Lankan Embassy are Cranford Johnson Robinson Woods, Inc (for lobbying and PR work); Emmanuel N. Emprass (legal fees); Stephen J Hedges (research and PR work); and the Majority Group LLC (simply, consulting fee).
During the same period, Thompson Advisory Group and a company called Levick Strategic Communications, LLC, were also hired but paid directly through the CBSL. Payment records or invoices could not be traced locally, despite our best efforts. However, there is a FARA filing for a company called Liberty International Group.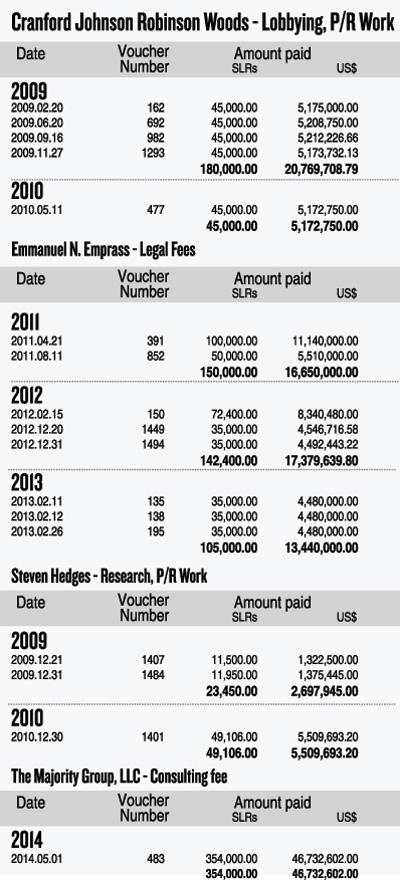 Table-2
This filing shows that, between September-November 2014, the Central Bank of Sri Lanka paid Liberty US$ 180,000 (Rs. 25,056,900) in fees. On behalf of the CBSL, Liberty has paid Levick Strategic Communications and two television stations US$ 210,000 (Rs. 29,233,050) for services such as "representation support", "media buy" and "unpublished draft materials". The total is US$ 600,000 (Rs. 83,523,000). The trails are mindboggling.
A few individuals in the previous Government have, therefore, hired nearly twenty lobbying, legal and public relations firms. Nearly all were in the US — the country with which the Rajapaksa regime ended up having its worst relations. Some companies were also hired in Britain and New Delhi.
The other companies in America were Girgenti, Sienna Brielle; Brownstein Hyatt Farber Schreck; Burson-Marsteller LLC; R&R Partners Inc; Beltway Government Strategies Inc; Bell Pottinger Communications Ltd; MSLGROUP Americas Inc; Hedges Strategies; Madison Group LLC; Vigilant Worldwide Communications; and Nelson Mullins Riley & Scarborough LLP. They are not listed in order of when they were hired.
Some of the tasks carried out by these professionals appear-on the surface, at least-to be perfectly within the capabilities of adequately trained local staff. It was the bane of the Sri Lankan Foreign Service that Washington, one of the country's most crucial diplomatic stations, was consistently staffed by non-professionals and political appointees. One of the other long-serving members of the mission was Thanuja Usliyanage, stepson of Lalith Weeratunga, secretary to President Rajapaksa.
Official FARA filings contain lists of services provided by the numerous firms retained by Sri Lanka. They include making phone calls; fixing meetings with senators and representatives; organising "general discussions"; gathering "general impressions" of Sri Lanka; writing and exchanging emails; examining the "history of issues" between the US and Sri Lanka and so on.
Brownstein Hyatt Farber Schreck (BHFS) has been particularly meticulous about tabulating its services. One FARA filing shows that on July 25, 2008, two members of BHFS travelled to Colombo and held a meeting with the US Ambassador in Colombo — Robert Blake, at the time — about the "views of the US Embassy in Sri Lanka towards current events in the country. This must have been a doubly crucial meeting, given that the Ministry of External Affairs (as it was then called) is also situated in Colombo and could have secured easy access to Ambassador Blake.
But BHFS has also gained some useful space in international media for the Sri Lankan Government, such as a Wall Street Journal editorial and "expanded coverage of Sri Lanka on the official State Department website". Other services include phone calls to Ambassador Blake and "attempts to schedule meetings between respective candidates and officials from the Government of Sri Lanka".
Stephen J Hedges has invoiced the Sri Lankan Embassy for US$ 11,500 for research services rendered into possible LTTE activities in the US. Liberty International Group says its contract covers "outreach to Members and staff of the US House of Representatives and United States Senate regarding increasing FY (foreign year) 20-16 State, Foreign Operations, and related program operations appropriations for the benefit of Sri Lanka".
The story of these payments becomes even more bizarre after Ambassador Wickramasuriya leaves the Washington mission (after repeated extensions run out). The incoming Head of Mission, Prasad Kariyawasam, a veteran of the Sri Lanka Foreign Service, halted all disbursements to lobbyists and public relations companies. He took over diplomatic assignments and has, by now, developed robust ties with US politicians.
Instead of giving up his addition to lobbyists, however, Mr Vass Gunawardena started funnelling even more money out through the CBSL. That is how the payments to an American influence peddler called Imaad Zuberi (reported in the Sunday Times of August 30, 2015) took place. This newspaper obtained documentary proof of money transfers, not only to a company that Mr Zuberi claimed to own, but to his personal bank account.
A total of US$ 6.5 million (Rs. 872,806,569, at prevailing rates) was released by the Central Bank of Sri Lanka between May 9 and September 10, 2014. None of it went through the prescribed channels. The money was paid on the written instructions of Mr Vass Gunawardena. Transactions were recommended by Mr Weeratunga and approved by Ajith Nivard Cabraal, then Governor of the CBSL. While some of the monies were tracked, the bulk of it remained unaccounted for.
A suspicious Federal Reserve stops CBSL's payments to US lobby firm
The Sunday Times this week uncovered more startling facts about payments made by the last regime to lobby groups. It was found, for instance, that the Central Bank wired out US$ 2,650,000 (Rs 368,893,250) to Nelson Mullins Riley and Scarborough LLP on October 31, 2014. The invoice simply read "Services rendered for October, 2014″.Nelson Mullins is the company at which Sajin de Vass Gunawardena's close friend Vinoda Basnayake now works. We have documentary proof of the payment going through to the National Bank of SC. We also obtained an invoice for US$ 1,500,000 (Rs. 208,807,500) payable to Nelson Mullins for "Services rendered for November, 2014″. Both disbursements were recommended in writing by the then Presidential Secretary Lalith Weeratunga.
This means that a total of US$ 4,150,000 (Rs 577,700,750) was made out to Nelson Mullins. The Sunday Times dug up the company's FARA filings for October 2014. It states that the Office of the Monitoring MP for the Ministry of External Affairs of Sri Lanka hired Nelson Mullins through Beltway Government Strategies Inc, another company.
It is true that Nelson Mullins was subcontracted by Beltway Government Agencies, which was only founded in June 2014 after Imaad Zuberi signed up with the Sri Lanka Government in 2014. But Nelson Mullins, curiously, was not paid by Beltway but directly by the CBSL.
Nelson Mullins's FARA filing states that in September 2014 it carried out correspondence with Congressmen Matt Salmon's and David Schweikert's offices regarding Sri Lanka. It also had phone calls with the US State Department regarding Sri Lanka.
It only declares as payments from the Office of Monitoring MP for the Ministry of External Affairs of Sri Lanka US$ 70,000 (Rs. 9,744,350) in August and September 2014. What happened to the rest of the money? Was it reimbursed?
The Sunday Times also checked Nelson Mullin's next FARA filing, dated April 30, 2015. It says the company continued to represent the Office of the Monitoring MP for the Ministry of External Affairs of Sri Lanka during the preceding period. By way of services, it carried out "meetings, calls and correspondence with the State Department Re: scheduling meetings for visiting delegation".
Under client monies received, it states that the Mr Vass Gunawardena's office paid a total of US$ 175,000 for November and December 2014 and for January, February and March 2015. It was not immediately possible to confirm whether the new government which took over after January 8, 2015, had continued these payments.
But the most mysterious payments were those made out to a company called Bennett Ridge. We found an invoice for US$ 2,000,000 (Rs. 278,410,000) from that company as payment for "Consulting and Research Services for the Central Bank of Sri Lanka". It is dated October 21, 2014.
There is an invoice for a further US$ 2,000,000 from the same company for the same tasks. It is dated November 14, 2014. An internet search did not throw up anything on Bennett Ridge. But a colleague in the US checked up and found that it was registered to 412, Buchanan Street NW, Washington, DC, 20011. Interestingly, its email address is: [email protected] Its administrator is Marcus Sebastian Mason, a partner at The Madison Group.
The Madison Group is another company that had been subcontracted by Beltway Government Agencies. The most intriguing part is this: The Federal Reserve Bank of New York stopped one of the Central Bank's payments to Bennett Ridge. The first instructions to pay out US$ 2 million went out on November 5, 2014. The Transaction Reference Number (TRN) is 29815. The recipient's bank is the Industrial Bank at Georgia Avenue in Washington, DC. The reason: Settlement of Invoice No: 0100 dated November 3, 2014, Consulting and Research Services.
The Fed Reserve Bank of New York wrote back to the Central Bank, "We request that you provide us with additional information on the beneficiary and the purpose of the transaction so we can be assured that it is of official Central Bank nature and satisfy your due diligence and risk management requirements."
It has requested the Central Bank specifically to provide the name and address of the beneficiary and more details on the underlying goods or services covered by this transaction. The Fed Reserve says it is unable to process the payment instruction without the information.
The Fed Reserve sends a second request to the Central Bank. And a third request. The next instruction we have from the Fed Reserve states: "Reference your MT103 payment instruction for value 5 November 2014 with TRN '29815′, beneficiary 'Bennett, Ridge' and details 'Settlement of Invoice No: 0100 dated November 3, 2014, Consulting and Research Services'. This payment instruction has been cancelled as the information on the beneficiary and the purpose of the transaction has not been provided as requested".
"Please do not resubmit this instruction without including the requested information," the Fed Reserve states. "Thank you in advance for your cooperation as we fulfill our risk management and due diligence requirements".
It was not possible to determine whether the payment eventually went through. Bennett Ridge is not registered under FARA. The local paper trail ends there. One thing is certain: This is no way for Sri Lanka's financial sector regulator to behave. Where does the buck stop? A little transparency could solve multiple mysteries.