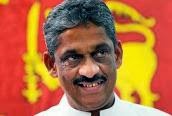 Fonseka: now a political force
Geenewa 410px 14 04 03Democratic Party leader, former Army chief Sarath Fonseka says Sri Lanka should support the proposal the UN has legally adopted. He is responding to a remark by SLMC secretary Hassan Ali to BBC that Sri Lanka should support a probe due by the UN human rights chief to prove the war crimes charges were false. Without making boastful statements, our country should face the issue and resolve it, Mr. Fonseka says.
UNP general secretary Tissa Attanayake says the UN has still allowed Sri Lanka for a credible internal investigation.
The issue has gone too far due to attempts to avoid such an investigation, he says.
JVP propaganda secretary Vijitha Herath says if the SLMC, as a partner of the ruling UPFA, has declared its stance thus, the government itself should make its stance known too.