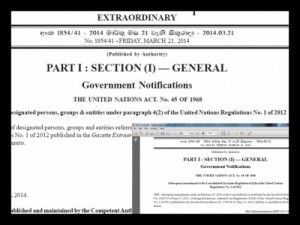 The Gazette notification printed on Friday by the Government Printer, containing the order issued by the Government to proscribe groups operating overseas with alleged LTTE links, has listed 424 individuals and Diaspora organisations.
The Government had last week announced that 16 groups had been listed under a UN Security Council resolution but the Gazette notification seen by the Colombo Gazette shows a list of over 400 people including individuals living in countries like Denmark, Germany, Finland, etc.
The Gazette also mentions individuals and organizations with alleged links to the Taliban and Al Qaida, two internationally known terrorist outfits.
Deputy External Affairs Minister Neomal Perera said that following the ban on the groups the government would take measures to seize the properties, land and bank accounts belonging to them.
He added that these organizations had been sending financial aid to some Sri Lankan organizations and the government would launch investigations to identify those organisations.
He also said that the Government would also take steps to refuse VISA applications of any person affiliated with the banned organizations and would not allow them into the country.
Meanwhile, the Global Tamil Forum, one of the groups banned by the Government, said it would deploy all legal and political instruments that were at its disposal against the ban.
Global Tamil Forum spokesman Suren Surendiran said that they planned to send a clear message to the Government that none of the 'terror' tactics would work with them as they lived in a free society where they cherished freedom of speech and democracy and democracy not as defined in Sri Lanka but practicing democracy.
Organisations banned last week are the Tamil Rehabilitation Organisation, Tamil Coordinating Committee, British Tamil Forum, World Tamil Movement, Canadian Tamil Congress, Australian Tamil Congress, Global Tamil Forum, National Council of Canadian Tamils, Tamil National Council, Tamil Youth Organisation, World Tamil Coordinating Committee, Transnational Government of Tamil Eelam, Tamil Eelam People's Assembly, World Tamil Relief Fund and the Headquarters Group.
(Colombo Gazette)
CLICK HERE FOR THE GAZETTE NOTICE 1 , CLICK HERE FOR THE GAZETTE NOTICE