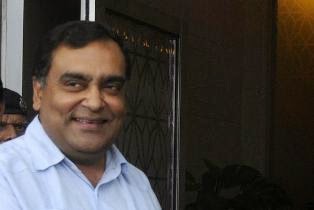 Y.K. Sinha. File photo: V. Sudershan
"India considers early progress on devolution and a political settlement as being crucial to Sri Lanka to tackle mounting international pressure," High Commissioner of India to Sri Lanka Y.K. Sinha, said, a week after India abstained from voting on the U.S.-backed resolution in Geneva.
Early resumption of dialogue between the government and the Tamil National Alliance (TNA) – which runs the Northern Provincial Council – is the key, and the Sri Lankan government should create conditions conducive to resumption of dialogue, he said, addressing the Foreign Correspondents' Association here on Friday.
"Sri Lanka needs to address issues in a meaningful manner to prove to the international community that it "has taken very concrete, very visible steps" to deal with the concerns.
On India's position on the progress in implementation of the 13th Amendment – made to the Sri Lankan Constitution following the Indo-Lanka Accord of 1987 – that devolves certain powers to the provincial councils, he said India was engaged with Sri Lanka at the highest level on the question of devolution. Observing that India had been consistent in calling for an early political solution, Mr. Sinha said even Sri Lanka's own Lessons Learnt and Reconciliation Commission (LLRC) spoke of the need for Sri Lanka to take the lead in manifesting its political will and sincerity of purpose. "This will help with dealing [with] international pressure building up against Sri Lanka," Mr. Sinha said.
India, in a spirit of partnership and cooperation, would continue to engage with Sri Lanka towards implementation of the 13th Amendment and build upon it, as was promised to India by the island nation.
On whether the abstention at the Human Rights Council gave more leverage to India to push for meaningful devolution and resolve the ongoing fisheries issue, Mr. Sinha said: "I don't think it'll be fair to say that we want to exercise pressure or leverage on either side, but what we would like to do is so try and restart that political process."
"Polls, a good sign"
Describing the September elections to Sri Lanka's Northern Provincial Council an 'encouraging sign,' he said India would like both sides (Sri Lankan government and the TNA) to work together and find a solution which is in the best interest of all communities in Sri Lanka, including the Tamils.
On the fisheries conflict, Mr. Sinha — observing that he was grateful to President Mahinda Rajapaksa for releasing all Indian fishermen soon after the Geneva proceedings — said he hoped the talks between fishermen's association from both sides were held in the near future.
Asked of India saw scope for any progress of the long-pending Comprehensive Economic Partnership Agreement (CEPA), which the Sri Lankan government has virtually shelved, he said the two countries had a robust trade engagement and pointed to a ten-fold increase in bilateral trade, as a result of the "successful implementation" of the Free Trade Agreement between the neighbours.
"We need to move to next level … I know there are certain reservations in Sri Lanka on CEPA," he said, adding that it was more important to move to the next level, rather than be bogged down by nomenclature.
Both sides, he said, were discussing intensively a special economic partnership between the two countries, the contours of which were being defined currently. "It is important we concentrate on the larger picture. Sri Lanka is a partner and we will be happy to move at whatever pace Sri Lanka would like to move," he said.
T.N. impact on Delhi
Responding to a question on Tamil Nadu's influence on New Delhi in regard to its diplomacy with Sri Lanka, Mr. Sinha said India's foreign policy certainly reflected the aspirations of all its people — which includes all its provinces. While Delhi definitely took into consideration concerns and positions of all its people, decisions were taken in national interest, he added.