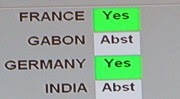 Political parties in Tamil Nadu expressed shock and disbelief, while condemning India's decision to abstain from a U.S. sponsored resolution in the United Nations Human Right Council (UNHRC) against Sri Lanka for a credible, independent, international probe into the alleged human rights violations in the last leg of the civil war in that country during 2009.
The resolution was passed by 23 votes in favour against 12 in opposition, and 12 abstentions.
"I condemn India's stand," the Dravida Munnetra Kazhagam (DMK) Treasurer, M.K. Stalin, told The Hindu late on Thursday night when contacted. "In the past India supported similar resolutions because of the pressure exerted by the DMK, which was part of the Congress-led UPA government. Now India has abstained from voting. The detractors of the DMK will now understand the crucial role played by our party in shaping India's opinion in favour of Sri Lankan Tamils," he said.
The Communist Party of India (CPI) MP and party's national council secretary, D. Raja, said it was another betrayal of the Sri Lankan Tamils' cause by the Indian government, even though it was a watered-down resolution.
"India knows better than any other country about what happened in Sri Lanka as everything happened with the knowledge of the Indian government. India should have taken the lead in sponsoring the resolution against Sri Lanka. But it has failed. The conduct of India's foreign policy is shameful," Mr. Raja said.
Hails India's stand
Meanwhile, senior Bharatiya Janata Party leader Subramanian Swamy has hailed the Indian Government's stand on the issue. In a message, Dr. Swamy said, "I congratulate Prime Minister Manmohan Singh for ordering the Indian delegation in UNHRC not to support the dangerous U.S. Resolution seeking an international probe into the so-called human rights violations during 2009 anti-LTTE war by Sri Lanka."