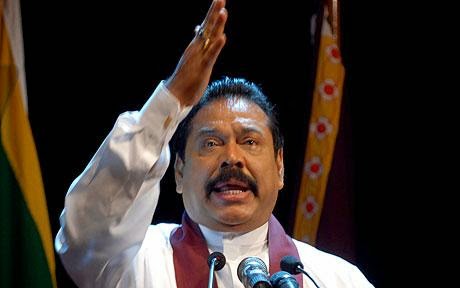 Even if all 48 countries voted against Sri Lanka in Geneva, foreigners will not be allowed to subjugate the mother land, President Mahinda Rajapaksa emphasized.
Winning or losing will not be a problem as we have not committed a wrongdoing, he added.
The President made these comments addressing the final election rally of the United People's Freedom Alliance (UPFA) at the N.T. Dayananda grounds at Debarawewa in Hambantota on26 March.
'Even if the opposition wins on the front of the resolution against Sri Lanka submitted in Geneva, it would be the UPFA that would emerge victorious at the election held on March 29th.'
'The British were able to colonise the country in the past due to the betrayals of our own people, the President said, pointing out that those who have more hatred and anger in their minds rather the politics are doing this even today.'
The people of this country are not prepared for Sri Lanka to end up as a colony again and this message would be made clear to the entire world through the historical victory of the UPFA on March 29, he added.
Even if Sri Lanka loses the Geneva vote, the government must win the March 29 election and that victory will be a triumph of the mother land and the public, the President said.
– Sri Lanka Gaurdin