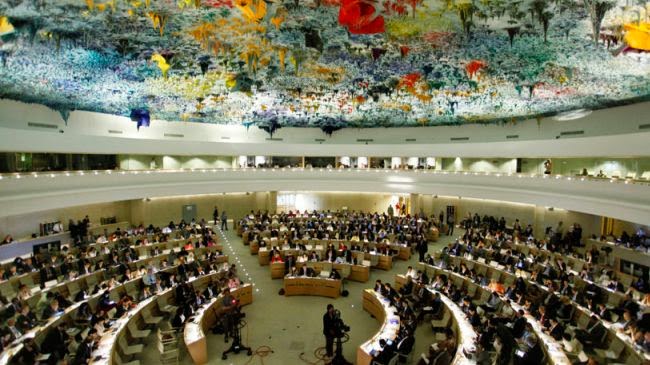 UNHRC in session (UN photo)
The international investigation launched by the staff of UN High Commissioner for Human Rights Navi Pillay's office would violate the sovereignty and territorial integrity of Sri Lanka, a group of ruling party MPs said in a motion handed over to Parliament yesterday.
Nine UPFA MPs delivered the motion to Parliament Secretary General Dhammika Dassanayake yesterday, citing reasons for not granting access to Sri Lanka for Pillay's team of investigators.
Dassanayake told Daily FT the motion had been received and had been included in to the order book.
The motion stipulates that the investigation against Sri Lanka by the United Nations' Human Rights Commission should not be held. "This Parliament resolves that the investigation to be conducted against Sri Lanka by the United Nations' Human Rights Commissioner's Office should not be carried out on the ground that such a course of action is detrimental to the process of reconciliation and peace and that it erodes the sovereignty, dignity and stature of Sri Lanka," the motion states as included in the order book of Parliament.
"Party Leaders will convene at 11:30 a.m. on Friday to decide when the debate on the motion will take place," the Secretary General said.
UPFA Parliamentarians Achala Jagoda, Malini Fonseka, Uditha Lokubandara, A.H.M. Azwer, Janaka Priyantha Bandara, J.R.P. Sooriyaperuma, Shantha Bandara, Duminda Silva and Nimal Wijesinghe are signatories to the motion.
President Mahinda Rajapaksa yesterday said the final decision on whether to allow UN investigators into the country would be made by Parliament, "where the peoples' will resides".
In a letter to the Sri Lankan Government dated 5 June, the Office of the High Commissioner of Human Rights requested access for the UN investigators who will be conducting the probe into alleged war crimes and major human rights violations in the last seven years of the war.
Access has been requested for the probe team between July-November 2014.
The investigation is due to kick off in July, after the OHCHR finalised its staff team for the Sri Lanka probe last week, headed by Senior Coordinator Sandra Beidas. Two independent senior experts will supervise the investigation on a pro bono basis. International Judge in the Khmer Rouge War Crimes tribunal and former New Zealand Governor General Dame Silvia Cartwright has already been picked for one of those two experts while the other is to be decided in due course.