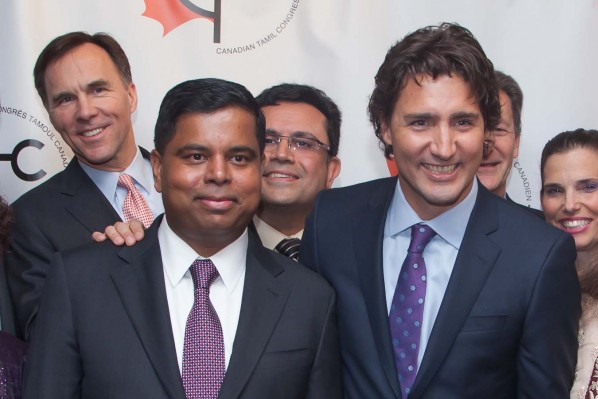 By Daya Gamage .
Garry Anandasangaree, 43, a well-established attorney-at-Law elected to Canadian parliament from Toronto's Scarborough Rouge Park Riding electoral district in the Canadian Province of Ontario this week to represent the Liberal Party which won almost a landslide in Canada elevating its leader Justin Trudeau as the next prime minister. Sri Lankan expatriate – Liberal Party MP – Garry Anandasangaree with Prime Minister-elect Justin Trudeau
It was an amazing rise for Anandasangaree who migrated to Canada with his mother as a ten year old boy in 1983 during the time the unruly elements – who happened to be Sinhalese – connected to the then ruling party – UNP – took to the road attacking minority Tamils, killing them and destroying their precious property: the Black July.
The mother and the two sons left their father, Veerasingham Anandasangaree, a prominent Tamil politician at that time (and now the most respected leader of the Tamil United Liberation Front -TULF), seeking justice and fair play in a western nation.
Garry grew up to be one of the spokesperson for the minority Tamils in Sri Lanka, and, never to be misunderstood as a spokesperson for the Tamil Tigers.
In the adjoining electoral district, the spokesperson for the LTTE, Radhika Sitsabaiesan, elected three years ago to represent the New Democratic Party in the Canadian parliament, lost her bid this week.
Her Tiger campaigners endeavored to defeat Garry Anandasangaree supporting a pro-LTTE candidate, but miserably failed, the electorate awarding Mr. Anandasangaree a landslide victory.
Since the defeat of the Tamil Tigers in May 2009 leading to the emergence of the 'Tamil Voice' within the global Tamil Diaspora, Sri Lankans have the tendency of bringing all those who advocate justice and fair play for the minority Tamils under the Tiger banner. In doing so, one could see the emergence of obstacles in the path of reconciliation.
There are two groups in the global Tamil Diaspora: one – Radhika Sitsabaiesan belong to a group – who use the accountability and justice 'cry' to delegitimize the Sri Lankan state, get the UN involvement and go for a referendum which could lead to an independent-separate state in the north-east region of Sri Lanka: a target Tiger leader Prabhakaran endeavored to achieve though his adventurism.
Garry Anandasangaree belonged to the other group who endeavor for reconciliation and justice while calling for accountability for what happened during the final stage of the Eelam War IV. This background was in play when the pro-Tamil Tiger elements in Scarborough area in Toronto campaigned against Garry in support of another candidate who belonged to the first group.
Garry Anandasangaree's family in Sri Lanka's northern district of Jaffna faced the wrath of Prabhakaran's Tamil Tigers and organizations that acknowledged Indian intervention. His father, the respected Tamil political leader Veerasingham Anandasangaree, had always distance himself from the 'Tiger Menace' nevertheless was advocating justice for the minority Tamils in Sri Lanka. He never mixed these two issues.
Garry's uncle, V. Anandasangaree's older brother Rajasangaree, chairman of Chavakachcheri Citizens' Committee, was murdered by the pro-Indian Eelam People's Revolutionary Liberation Front (EPRLF) on 26 October 1987, the year IPKF landed on Sri Lankan soil following the Indo-Lanka Accord. Rajasangaree had been complaining about abuses committed by the IPKF.
Garry's other uncle Ganeshasangaree was murdered by the LTTE on 10 February 1988 after he criticized the Tigers in public. When two of Ganeshasangaree's sons complained about their father's killing they were taken away by the Tigers and never seen again.
G. Yogasangari, the son of TULF leader V. Anandasangaree's brother Ganeshasangaree, was an EPRLF Member of Parliament. Yogasangaree, EPRLF leader K. Padmanaba and others were assassinated by the Tigers on 19 June 1990 in Kodambakkam, India. Sayanuja, the daughter of Mr. V. Anandasangaree's brother Parathasangaree, was killed on the Tivistock Square bus bombing on 7 July 2005.
The pro-Tiger elements in Toronto Scarborough area in the Ontario Province in Canada are well aware of this historical background when they unsuccessfully supported another candidate to defeat Garry Anandasangaree.
Following the March 2014 UNHRC's Twenty Fifth Session in Geneva with mounting calls for an international, independent investigation into war crimes and crimes against humanity committed by both parties to the conflict during the last stage of the war in Sri Lanka, Garry Anandasangaree who attended several sessions in Geneva said "The overwhelming calls for an independent, international investigation in Sri Lanka can no longer be ignored. Incremental pressure on Sri Lanka has clearly failed, and it is time for the United Nations Human Rights Council to establish an International Commission of Inquiry that will bring the victims justice. The UNHRC cannot continue to evade its duties and responsibilities under international law."
He was representing the Canadian Tamil Congress as its legal counselor. His endeavor since the 2009 session at UNHRC in Geneva on issues of accountability and reconciliation in Sri Lanka is aptly reflected in what he wrote in his Facebook account.
In his Facebook, https://www.facebook.com/gary.anandasangaree, he posted on July 3, 2014 a telling statement of where he stands. Gary wrote: "After thinking about this for weeks, my wife wrote a letter to the United Nations High Commissioner for Human Rights – a letter that changed the course of my life. As a result of this, we went to Geneva in March of 2009."
He further said in his facebook account "We made our case to the UNHRC Chief, Navi Pillai. Over the course of the next five years, I went to Geneva regularly – sometimes, both Harini and our toddler and I would go. We went for one singular reason – we could do more in Geneva with our skill sets than anywhere else.
"We focused on the issue of international accountability and were relentless. No one person can take credit for the resolutions in Geneva. Some have said that even if I hadn't taken part, these resolutions would have gone through. And they are likely right. However the point is, over the course of 30 odd visits to the UNHRC, we were pursuing what we believe to be the right path—that is to seek accountability for war crimes, crimes against humanity, and genocide against Tamil peoples. I have been mischaracterized on the issue of genocide. It is true that I have not said the word genocide with every other breath — I have used the term strategically.
"However, the fact that the current investigation includes an investigation into genocide speaks for itself — and this did not happen by accident. I have written and said that genocide took place against Tamils in Sri Lanka, and I have also explained the challenges in proving it from a legal standpoint, yet that doesn't mean that we shouldn't try. To all those who have singularly pointed out that I deny genocide took place, you have either been lied to, or are lying yourself and abusing an important issue for your own political ends."
Sri Lanka, since the defeat of the Tigers in May 2009, has come a long way to face the October 3, 2015 report of the UN High Commissioner for Human Rights, a joint US-Sri Lanka resolution at UNHRC acknowledging the report and its recommendations to put in place a mechanism of comprehensive domestic investigation with international participation.
Those who profess secessionist trajectory and those who genuinely want accountability – to the latter group Member of the Canadian Parliament Garry Anandasangaree belong – equally contributed to subject Sri Lanka to global scrutiny.
Whether both elements contributed to de-legitimize Sri Lanka in the eyes of the global community is another aspect for a long debate or a theme for a good book. If so, the first group who opposed Garry at Scarborough has removed some obstacles to travel on that trajectory to get UN intervention in Sri Lanka.
It is interesting for Sri Lanka to watch what trajectory Gary Anandasangaree will take in the Canadian legislature. But going through his family background and his profile and his most-respected father, it looks like he may not toe the line the former Canadian Member of Parliament Radhika Sitsabaiesan is currently taking.
– Asian Tribune Political Note
Washington, D.C. 24 October (Asiantribune.com):