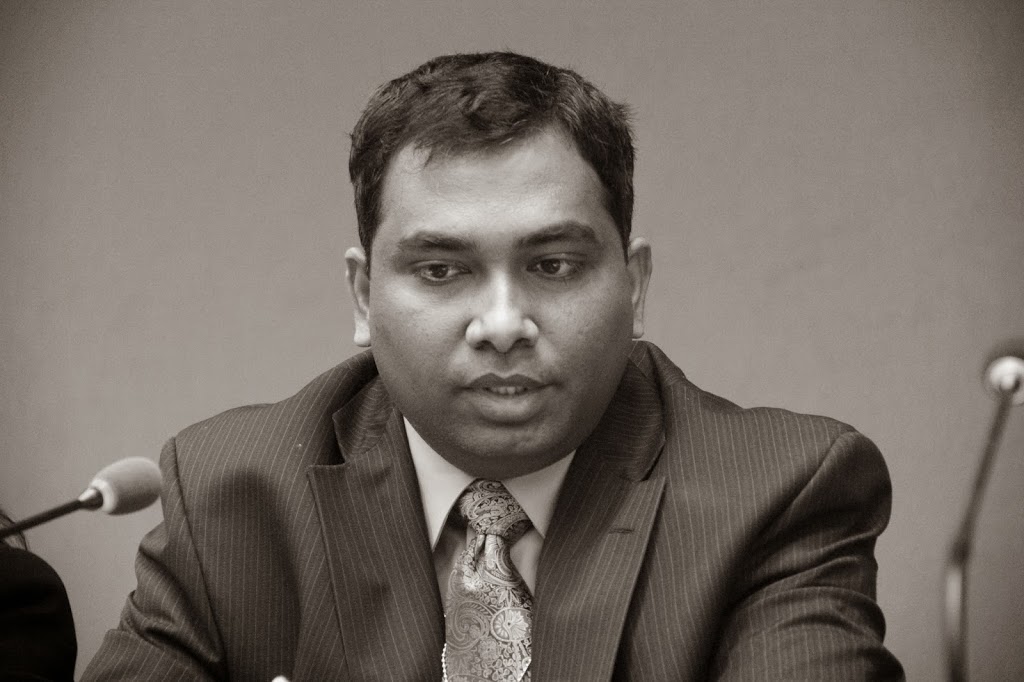 Tamil Dr. Vartharaja speaking of civilian causalties
at the last phase of war at HRC 25 (© Deshapriya S.)
UNITED NATIONS — What to do with Sri Lanka? The island nation, triumphant after nearly three decades of war against ethnic separatists, has vexed the United Nations.
Five years after the war's brutal ending, the world body has been unable to address grave human rights violations committed by the warring parties, making Sri Lanka something of an object lesson in the difficulties of pursuing accountability.
The United Nations' own conduct during the war led to a change in doctrine: The secretary general late last year ordered United Nations officials not to stay silent in the face of rights violations, as they had in Sri Lanka in 2009.
Special envoys were appointed, and the Office of the High Commissioner for Human Rights urged Sri Lanka to seek accountability; both gestures were rebuffed. Now comes the sharpest measure yet: The United Nations Human Rights Council is due to vote Thursday morning in Geneva on whether to order an independent international investigation into possible war crimes, including executions, rape and torture.
The draft resolution calls for the United Nations human rights office to monitor Sri Lanka and "undertake a comprehensive investigation into alleged serious violations of human rights and related crimes by both parties."
The high commissioner for human rights, Navi Pillay, supports an investigation. She has said Sri Lanka's own inquiries have "consistently failed to establish the truth and achieve justice."
The vote by the 47-member council will most likely be close. Iran and Zimbabwe praised Sri Lanka's postwar reconciliation efforts, while China commended its "promotion and protection of human rights." The United States, which co-sponsored the resolution, pointed to continued harassment of journalists and members of civil society, "including reprisals against those who meet with visiting diplomats and U.N. officials." India, whose vote will be closely watched, chose not to address the council on Wednesday.
A defeat of the resolution would be "devastating," said Julie de Rivero, the Geneva-based advocacy director for Human Rights Watch. "It would really call into question the council's effectiveness."
The effect of the vote on the ground remains unclear — the government is unlikely to cooperate with monitors. President Mahinda Rajapaksa of Sri Lanka made his displeasure clear this week while campaigning for provincial elections that are due to be held this weekend. "I don't care if we win or lose in Geneva," he said. "I don't give a pittance. I know the people here will ensure our victory."

Indeed, the government enjoys enormous public support among the majority ethnic Sinhalese for its May 2009 military victory against the rebels, the Liberation Tigers of Tamil Eelam. Mr. Rajapaksa is likely to use any international investigation to his advantage.
One reason the United Nations has found it difficult to bring about accountability, even long after the end of a gruesome war, is that the rebels were members of a widely despised, brutal insurgency that was deemed a terrorist organization by many countries in the aftermath of the attacks of Sept. 11. The Sri Lankan government deftly leveraged international support to crush the rebels.
The difficulty equally reflects political pressures that have nothing to do with Sri Lanka. India, for instance, has a large and influential ethnic Tamil population, and its leaders can hardly afford to alienate them ahead of India's parliamentary elections, due to start next month. Nor can it ignore Sri Lanka's ever-growing ties with China.
The war in Sri Lanka has roiled the United Nations. It had a large presence in the country during the last few months of the war, when up to 40,000 people are believed to have been killed, but was notably silent about the scale of killings. In an internal review, the United Nations described its silence as "a grave failure," taking to task officials who "did not perceive the prevention of killing of civilians as their responsibility."
That internal review led to a stark shift in policy, called "rights up front." United Nations officials in the field are now under orders to report rights violations, and senior officials here are to engage in what Deputy Secretary General Jan Eliasson called "quiet diplomacy" or, if necessary, raise the violations with the Security Council.
The Security Council also did not pay close attention to rights abuses in a conflict that sought to stamp out the Tamil Tigers. "It was clear member states didn't want to be told," said Ian Martin, a former senior United Nations official.
He added that there was slim chance of punishing perpetrators now, without the government's cooperation. "It's one step further to a definitive account," he said. "Truth is, there's not going to be accountability."
Ms. Pillay, in a report published in late February, pointed to abiding problems, including "continued militarization and compulsory land acquisition," along with "shrinking space for civil society and the media, rising religious intolerance and the undermining of independent institutions, including the judiciary." Mr. Rajapaksa sacked the country's chief justice in January of last year.
Previous investigations have found that tens of thousands were killed in the final months of the war and that hospitals were bombed, in violation of international law. The latest international report, issued last week by a South African human rights lawyer, documented 40 cases in which suspected Tamil Tigers supporters were abducted, tortured and sexually abused by members of the Sri Lankan military.
Mr. Rajapaksa's administration has consistently denounced international human rights inquiries as a breach of the country's sovereignty and an unfair targeting of his country. In the Sri Lankan capital, Colombo, Buddhist monks and Hindu priests held all-night prayers on Monday, while on Wednesday about 2,000 pro-government Muslim protesters marched to the United States Embassy.
In the days leading up to the Geneva vote, Sri Lanka's actions have drawn new outside scrutiny. It briefly detained two human rights advocates for questioning last week. Over the weekend, the police rounded up 300 Tamil youths for questioning in the still heavily militarized Jaffna peninsula in the country's north. Maj. Gen. Udaya Perera, a northern area commander, said the heightened security checks were a "precaution" as the police stepped up the search for a rebel operative.
The chief minister from Sri Lanka's Northern Province, C. V. Wigneswaran, an ethnic Tamil, has said he fears that the resolution, if passed, could spark a fiercer military crackdown. "We are worried the army might go berserk once the decision is made in Geneva," he said.
A former Sri Lankan diplomat, Dayan Jayatilleka, described the country's predicament as being caught between the United Nations campaign for accountability and Indian political imperatives.
Mr. Jayatilleka wrote in an opinion article for The Colombo Telegraph that "the Rajapaksa administration will owe a significant slice of its election victory this time around to the ill-targeted Geneva resolution."
Nick Cumming-Bruce contributed reporting from Geneva, and Dharisha Bastians from Colombo, Sri Lanka.