A letter of demand was served yesterday on the Attorney General's Department, Cabinet Minister Wildlife, State Minister Wildlife, Ministry Secretaries, Chief Curator Pinnawala, Director General Wildlife and Director General Zoo over the controversial release of 15 elephants from state custody, reports The Island.
Meanwhile Director General of Zoological Gardens Ishini Wickremesinghe also gave her resignation from the post. Her decision to resign from the post came in the wake of a Gazette Notification that followed a court ruling to handover several tamed elephants kept under State custody, back to the owners.
She wrote on her Facebook page that

The Island report further says that:
Attorney-at-Law and Notary Public K. Nimmi Sanjeewani yesterday (10 Sep 2021) submitted the letter of demand stating clients (1) Centre for Environmental Justice, (Guarantee) Limited (2) Mr. Athragoda Kankanamge Dilena the Executive Director of the Centre for Environmental Justice both of 20A, Kuruppu Road, Colombo 08 (3) Ms. Panchali Madurangi Panapitiya of 565/4A, Mihindu Mawatha, Malabe (4) Ms. Maheshi Nanayakkara of No. 5, Jayanthipura Road, Battaramulla and (5) Ms.Wadduwage Visakha Perera Tillekeratne of No.73/12, Kirillapone Avenue, Colombo 05.
"I am instructed to state that on or around 06th of September 2021, the Learned Magistrate of Colombo Fort Magistrate Court and the Learned Magistrate of Matale Magistrate Court ordered the Director-General of National Zoological Gardens to release elephants that were in the custody of the Department of National Zoological Gardens as productions in Cases bearing Nos. B 23073/01/15 and B 941/14, respectively back to their so-called owners, upon the consideration of an application made by the Officer-in-Charge of the Special Investigation Unit No. 01 of the Criminal Investigation Department based on the Gazette Extraordinary No. 2241/41 dated 19.08.2021 issued under the Fauna and Flora Protection Ordinance as amended and on your instructions."
Accordingly, 15 elephants which were held under the custody of the Department of National Zoological Gardens as productions were released back to those accused of illegally capturing them from the wild and keeping them in their possession under fraudulent documents and/ or without registering them in terms of the provisions of Fauna and Flora Protection Ordinance No. 2 of 1937 as amended.
"I am instructed to state that the said application made before the Learned Magistrates for the release of productions of an unconcluded matter is contrary to the provisions of Section 6 (3)(c) of the Interpretation Ordinance No. 21 of 1901 as amended."
Furthermore, Regulation 19 of Gazette Extraordinary No. 2241/41 dated 19.08.2021 specifically states that the Registration and Licensing of Tuskers and Elephants Regulations, 1991 published in the Gazette Extraordinary No. 662/4 of 14, May 1991 is rescinded without prejudice to anything previously done there under.
"This not only worsens the plight of elephants that were illegally captured from the wild but also undermines every effort made by conservationists and wildlife advocates to protect the country's dwindling elephant population. However, should you fail to respond to this demand as to what action/s you propose to take in keeping with the statutory cum constitutional duty imposed upon you and/or your department, pleased be informed that not only would my clients regard the content of this letter having been admitted but also that it would be construed by my clients in law as inaction on your part and your department and a refusal to perform your said statutory cum Constitutional duty which would compel my clients to seek and pursue appropriate legal action in an appropriate judicial forum for which I have instructions to institute on their behalf."
The court order  to release two elephants calf's to president Rajapaksa and others: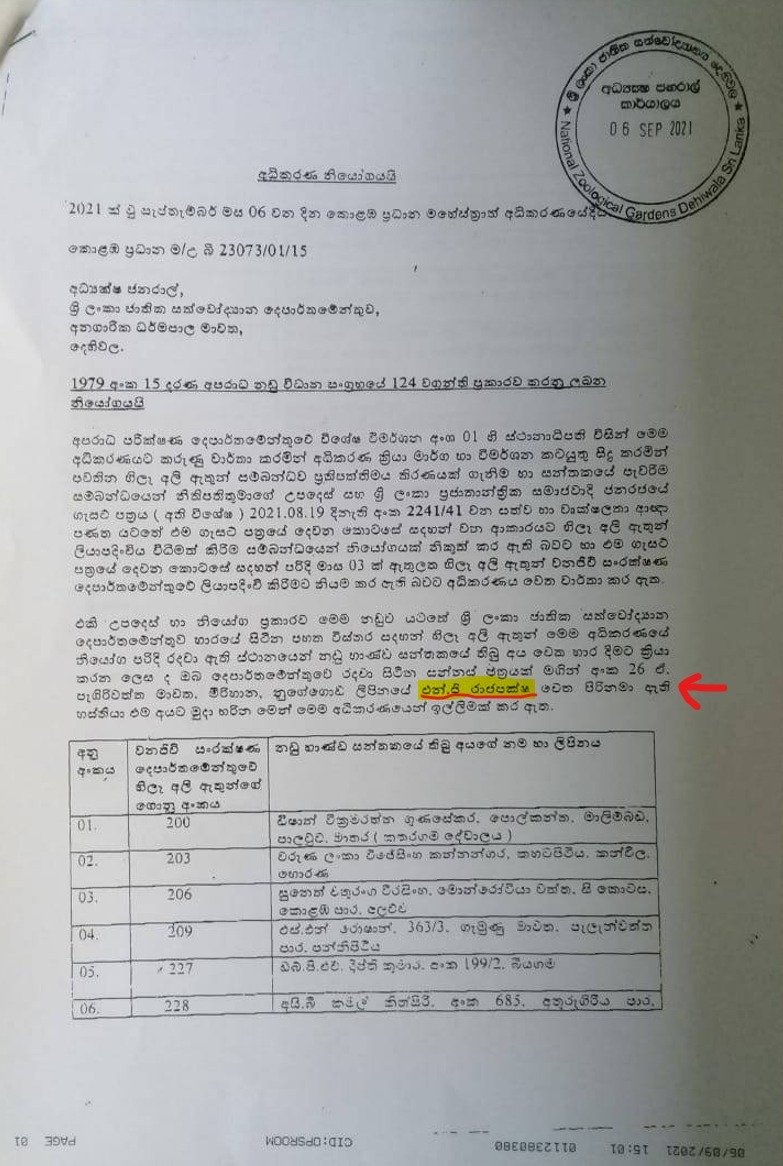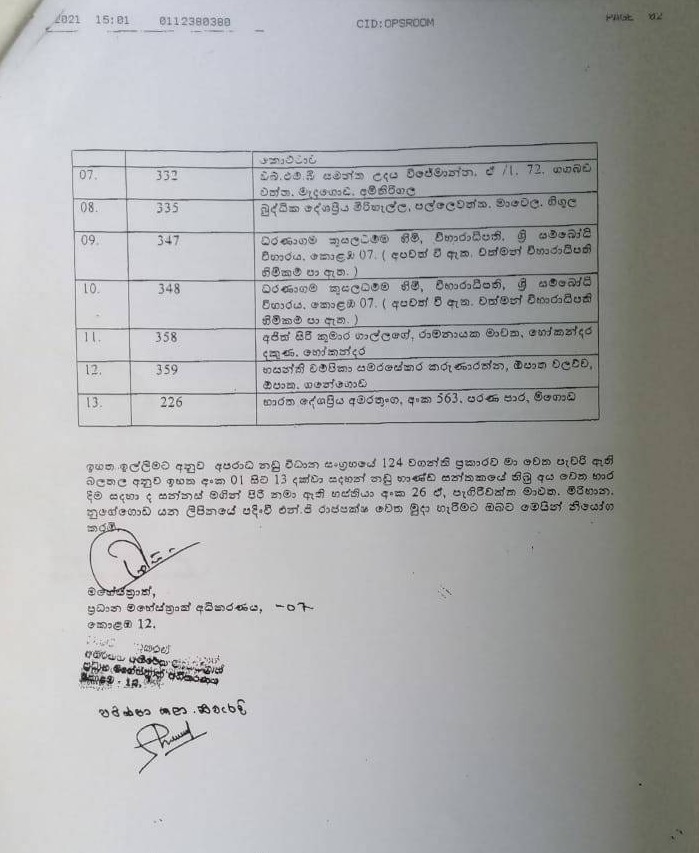 'No person can own elephants in Sri Lanka'  – Jagath Gunawardena
By PRIYAN De SILVA
Senor environmental lawyer Dr Jagath Gunawardena said that the whole concept of owning a wild animal was alien to Sri Lanka's Constitution and the laws that have been enacted under it and hence no person could own an elephant or any other wild animal for that matter. He added that the term 'elephant owner' was a misnomer and that there can only be 'custodians' who have been given written authority by the Wildlife Department.
Dr. Gunawardena was expressing his views at a media conference held last Thursday (09) afternoon to discuss the release of 15 elephants that had been previously confiscated by the Department of Wildlife as they were in the possession of persons who were unable to provide documentary proof of their custodianship.
Gunawardena added that the custodianship came into force only when the Director General of Wildlife signed the relevant document and it was against the law to return the animals to those who were not legitimate custodians.
Dr Gunawardena said that in this instance the Attorney General's Department who applied for the handing over of the said animals to those who had held them illegally had overstepped their (AG's Department) limits by determining the custodians of the said elephants as it was the Director General of Wildlife who was empowered to do according to Section 22 A of the Fauna and Flora Protection Ordinance.
Among those named as the person who would receive the three of the animals were a Buddhist monk who is now deceased and a mahout. The regulations enacted on 19 August 2021 had been cited in obtaining the release of these animals. Questioning its validity Dr Gunawardena said that regulations could only be signed by the Minister in charge of the subject who is a member of the Cabinet but in that instance the regulations had been signed by the State Minister in charge of the subject. Furthermore, the said regulations were not in keeping with the Fauna and Flora protection Ordinance which specifically prevents the commercial misuse of wild animals.