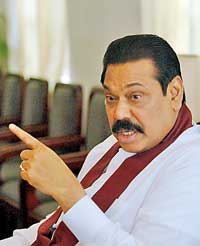 Add caption
One of the main cries of the international community is that of allegations of war crimes against the Lankan forces and the government's failure to have a transparent investigation. With the UNHRC sessions coming up and the threat by the British Premier, what measures have you taken to ensure a swift and transparent investigation into these allegations?
What is the transparent investigation they are talking about? Two or three years back, some panel was constituted outside Sri Lanka and without even visiting this country, without weighing all the evidence available, they just listened to some groups of people who influenced them in some way or the other, published a report that has been condemned by many right thinking people throughout the world as biased.

We had our own mechanism, the LLRC and who would dare say that those eminent men and women sitting as Commissioners were not independent and that they were lackeys of the government. Once their report was published the whole world latched on to it because most of their recommendations have been very fair and just. Some of the issues raised are complex and any government would require sufficient time to resolve them.
In regard to what the British PM said, I must emphasise that we are a sovereign government, duly elected by the people and that no one can threaten countries or governments. There is no one policeman in the world. What is the transparent inquiry they are talking about? In addition to the LLRC, recommendation of which are being implemented with care and diligence, a Commission of Inquiry has been appointed to report on the disappearances, missing persons etc. Anyone can come before it and place their grievances. Already, a total of around 10,000 complaints of which nearly 5000 are from Armed Forces, have been received.
The Commissioners are independent people of high standing; two of them were also LLRC commissioners. Who says that foreigners will be better and be independent commissioners? Who will give us the assurance that they are not biased? I once remarked that people in glass houses should not throw stones at others. I would like to recall those words again. Most leaders who attended the CHOGM appreciated what we are doing to bring about true reconciliation.
Q: There has been criticism against your government with regard to human rights abuses.
What is your response to this?
Who criticises us? And why do they do so?
These are important questions we must think about.
All those who criticise us including those who have never set foot here and those who do not know what Sri Lanka looks like or her history or for that matter what happened in the period 1983 to 2009, are those who accuse us without any evidence. They simply act as the voice of the defeated terrorists. They are both within and outside Sri Lanka. I don't have to tell you the scale of the malicious propaganda that was set in motion since the early 80's. As governments, we have been poor in countering these and presenting our case forcefully. The only abuse is that we defeated the brutal terrorists which some people labeled as unbeatable. I have always maintained that we have given opportunities for people to present any grievance and that we have a rock solid judicial system which is time tested. I reject that our government abused human rights. I cannot comprehend how those same people who accuse us now, waited in stoic silence when the terrorists for nearly three decades massacred thousands of innocent people, men , women, children, pregnant women etc.,and governments of the day looked helplessly being unable to defend the sovereignty and territorial integrity of our country. Where were the so called human rights crusaders then?