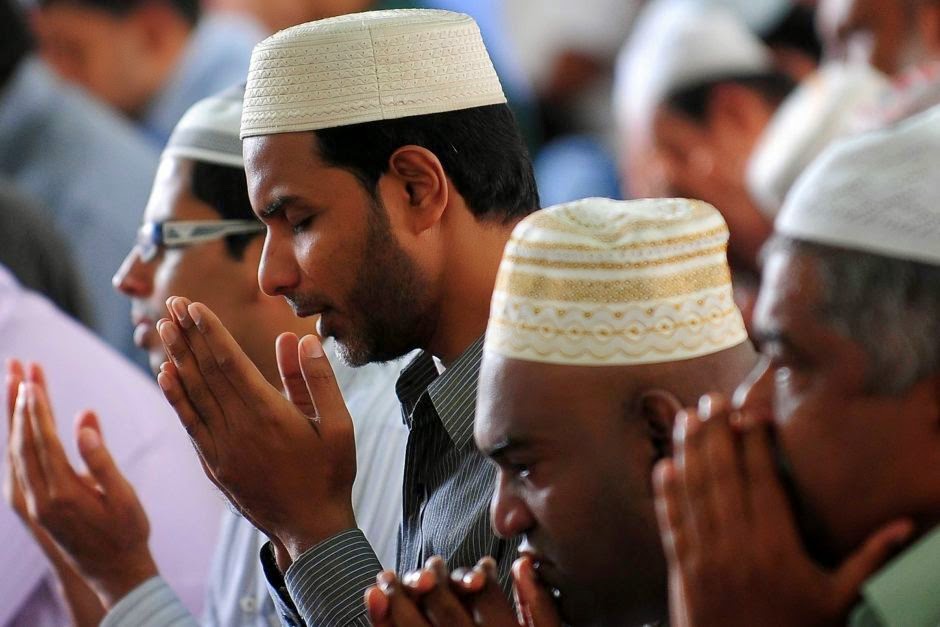 Muslims in Sri Lanka (Reuters)
Chamitha Kuruppu
The United National Party claims the Government has distorted evidence of the two murders and incidents related to the Aluthgama and Beruwala riots, and alleged there is a plot to divide the communities while trying to damage the long-term friendship with Middle Eastern countries. "There is a conspiracy taking place and it is the Government that is behind the ongoing violence in the country. It is not the United States or Saudi Arabia or any other international force that is behind these unfortunate incidents," UNP MP Mangala Samaraweera charged yesterday at a media briefing.
He alleged that the Ministry of Defence should be held responsible for the unfortunate incidents that took place on 15 June. The MP also made allegations against Defence Secretary Gotabaya Rajapaksa.
Samaraweera claimed that the Police was under immense pressure from the Ministry of Defence to mislead the investigations, distort evidence and release suspects arrested in connection with the recent attacks.
"The Minister of Justice has stated that facts connected to the murders have been changed. He has stated that he can produce evidence of used bullets where the two were injured. The bullets weren't fired by civilians," Samaraweera pointed out. "But the Judicial medical reports say the deaths were due to cut injuries."
The UNP MP stressed that there was a plot to divide the Sinhalese, Tamils and Muslims in the country. "They are also trying to damage our long-term friendship with Middle Eastern countries. These countries have been assisting and supporting our country in numerous ways," Samaraweera said.
During the media briefing, Samaraweera requested the President and Minister G.L. Pieris to go to Dharga Town and Beruwala and witness the disaster caused by Government-sponsored terrorists.
"Opposite the mosque there are number of Sinhala houses. When we spoke to them, they openly said Sinhalese and Muslims have lived together in harmony for over 60 years and never had any clashes prior to the 15 June incident. They were of the view that all that happened was done by outsiders backed by the regime," noted Samaraweera.
The MP also called for an independent inquiry. "If the families of the deceased agree, we request that a fresh post mortem be conducted," he added.
Referring to the NoLimit fire, the MP said: "Just a week after the Aluthgama and Beruwala attack, a Muslim shop in Panadura was completely damaged due to a fire. Even before conducting an inquiry, the Police said the fire had erupted due to electrical failure. We received CCTV footage from a close-by shop, which clearly gives evidence that a gang wearing rubber boots entered the premises," Samaraweera claimed.
"I don't blame the Police, who are helpless due to the immense pressure. It is the Ministry of Defence that should be held responsible for the unfortunate incidents that took place on 15 June," Samaraweera emphasised.