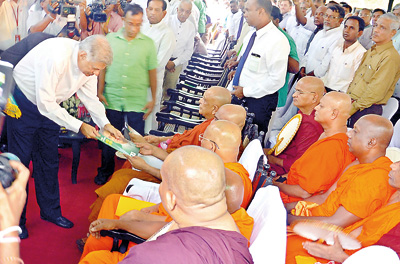 DSC_0020
The United National Front for Good Governance (UNFGG) and the Janatha Vimukthi Peramuna (JVP) released their manifestos this week, outlining their plans for the development of many sectors in the country, if they are elected to power. The UNFGG, in a programme to be implemented over a period of 60 months, pledged more jobs, better housing and health facilities, as well as sound environment polices, if it is elected.
Highlights of the UNFGG manifesto:
1 million JobsThere is a vast development gap between Sri Lanka and East Asian countries such as Singapore, Thailand and Malaysia. A strategy has been drawn to close this gap and create 1 million jobs and also increase salaries.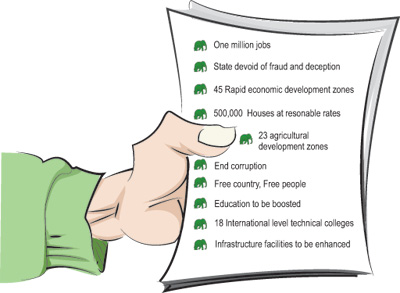 UNP-Manifesto
Use of alternative energy sources
Special subventions will be given to generate wind power, wave power, natural gas, solar power, etc.
Eco-friendly houses and buildings with minimum use of energy power will be built. Subsidies will be given for eco friendly vehicles.
Human-elephant conflict
Committees to solve the human-elephant conflict will be established in areas vulnerable to the threat.
Electric fences will be put up, especially in areas such as Anamaduwa, Medawachchiya, Kebitigollewa, etc.
Tea plantations
A value added tea products export company will be set up for the benefit of small tea estate owners.
The tea replanting subsidy will be increased.
Armed Forces
Our forces will contribute to regional humanitarian missions and patrol sea routes of the Indian Ocean.
New laws will be implemented to facilitate those who wish to leave the Armed forces, and the following steps taken on behalf of them.
Provide them with vocational training for another career
A special programme to provide them with jobs
Financial aid to build houses
Government Service
An authority responsible for providing a people-centered government service will be established.
Rights of Private sector workers
Minimum monthly salary for private sector workers will be increased to Rs 10,000. On May 2015, the salary was increased by Rs 1,500, and on January 2016 it will be increased by Rs 1,500.
A country devoid of fraud and corruptionWith the help of civil society, private companies and international organisations, long term strategies will be drawn up to uproot corruption.
Overarching anti- corruption and anti-bribery laws will be introduced.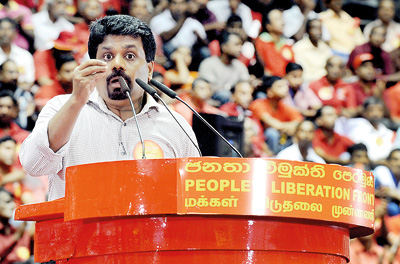 DSC_3920
Police
A new Police Ordinance will replace the 1865 Police Ordinance.
Women police officers will be appointed to police stations to deal with issues related to women and children.
Sports
A fully-fledged state-of-the-art Sports university will be established.
An independent Sports authority set up by the Constitutional Council will be established to ensure that Sports does not get embroiled in politics.
Women's Rights
Women's Rights will be legalised via a Women's Rights Ordinance.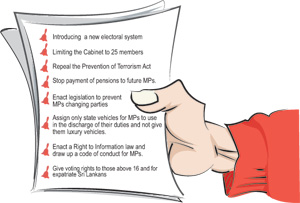 JVP-Manifesto
Extreme measures will be taken against crimes and violence against women.
Housing
In urban and suburban areas 500,000 houses will be built at affordable prices for working and middle class citizens.
Tap water connections will be provided under an easy payment scheme, according to which the connection fee can be paid in installments with the monthly bill.
Transport and Roads
After the Central Expressway is built up to Katugastota, Kandy city will be expanded to include Teldeniya and Kundasale. Work will begin on the Central and Ratnapura Expressways.
The bus service will be developed to ensure safe and comfortable travelling for the public and also for the betterment of transport service providers.
Health and Welfare
A National Health Services Authority will be set up under a Director General. Under this, separate Boards will be set up for prevention and cure of diseases, management of government hospitals, and overseeing the quality of medical service providers.
Senior Citizens
Government will reserve funds to ensure that the elderly will be able to lead an active and useful life with dignity and independence.
The financial security of senior citizens will be ensured.
The JVP its manifesto also outlined in detail how it intends to implement various programmes for the benefit of the public, if the Party is elected to power. The P arty promised equal rights to all communities and races, and said the JVP would completely abolish the executive presidency.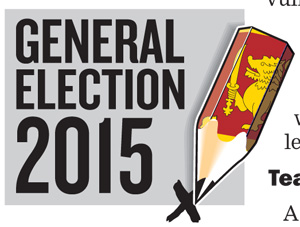 ST_20150726_A016-1
Its highlights: –
Basic Rights
All persons above 16 years of age will be eligible to vote.
Sri Lankan citizens abroad at times of elections will be able to vote from where they are.
International relations
New Embassies will be opened in countries with large populations of Sri Lankans (such as Cyprus).
Education
The expenditure for Education will be 6% of the Gross National Product. This money will be used to ensure equity and quality of Education, as well as to build up infrastructure related to Education.
Universities will be expanded so that all students who pass 'A' Levels will gain entrance to university.
Health
All health career education will be provided only by government institutions.
Food, Water and Nutrition
Pregnant and lactating mothers and senior citizens will be given Rs 2,000 as a monthly nutrition allowance.
The state of nutrition in the country will be examined every five years.
Sports and Fitness
A nationwide programme will be implemented to provide sportsmen and women with care, insurance, financial and material resources, as well as salaries, other payments and houses for professional sportsmen and women.
Within one year a national school for Sports will be established. Within three years a national university dedicated to Sports will be established covering all aspects of Sports.
Tourism
Airports will be developed and the current number of flights arriving daily to Sri Lanka, which is 70 today, will be increased to 150. Annual tourist arrivals will be increased to 3 million.
With a view to make Colombo a conference and exhibition center of South Asia, local and foreign companies will be encouraged to build the infrastructure required.
Transport
Steps will be taken to develop private transport services, and both government and private transport sectors will be centralised.
The Railways will be modernized and expanded for passenger and goods transport. Within main cities and in-between crowded urban centers tunnel trains will operate.
– Sunday Times