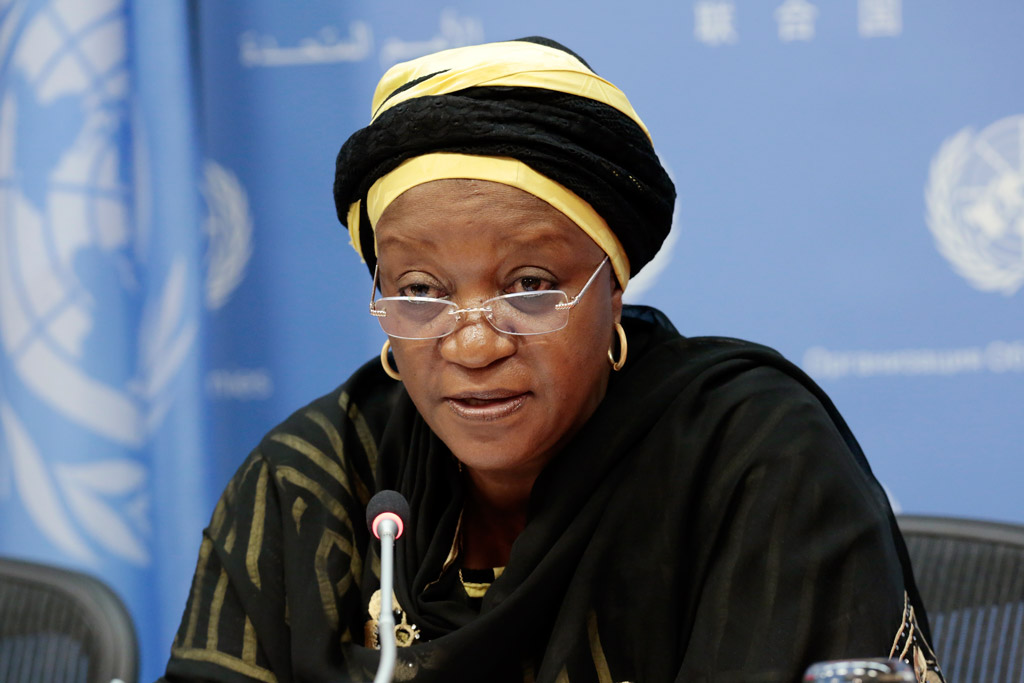 Special Representative on Sexual Violence in Conflict Zainab Bangura briefs the press. UN Photo/Evan Schneider
Special Representative Zainab Bangura briefs
the press. UN Photo/Evan Schneider
"It doesn't matter whether she comes from Bosnia, she comes from Colombia or Syria or Central Africa, the pain that a woman feels who has been raped is the same," Special Representative on Sexual Violence in Conflict Zainab Bangura told journalist in New York at the launch of UN
Secretary-General
Ban Ki-moon's annual report on the issue.
Documenting information based on cases recorded by the UN system in 21 countries of concern, the
report
identifies 34 armed groups, militia and Government security forces, responsible for using rape as a tool in conflict zones.
Among its findings, the report also links sexual violence with local economies. It notes that rape is used to gain control of territories with natural resources, including minerals, which are used by groups to further fuel conflict, as well as human trafficking and illegal drug trade.
Rape has also been documented as a trigger for mass flight, which further makes women, and especially youth, vulnerable to abuses. Some parents trying to protect daughters push them to early and forced marriages, which has led to cases of human trafficking and sexual slavery, Ms. Bangura noted.
While impunity for sexual violence remains prevalent, it is particularly acute in these situations. Under-reporting of sexual assaults is a function of limited capacity to safely monitor and report, as well as the result of fear of stigmatization and reprisals by the survivors.
Among the report's recommendations, Mr. Ban also urges Governments "to work to develop a comprehensive protection and service response for survivors" of sexual violence, including reproductive health services, HIV awareness and response services, and assistance in psychosocial, legal and livelihood aid.
"The UN calls on the countries in question, and the international community, to ensure that men, women and children who are victims of sexual violence, and children born of rape get the assistance they need," Ms. Bangura underlined echoing the report.
The report also urges building the capacity of civil society groups to better protect against such crimes at the community level. At the national level, the report recommends engage with state and non-state parties to obtain commitments to prevent and respond to conflict-related sexual violence.
Earlier this month, Ms. Bangura and other senior UN officials, including human rights chief Navi Pillay, called on the Government of the Democratic Republic of the Congo (DRC) to step up the fight against impunity for rape and sexual violence, which remain widespread and largely unpunished. Referring to a report from the UN Joint Human Rights Office in the DRC (UNJHRO), she noted documented cases of 3,600 people attacked, nearly half of them in the strife-torn eastern province of North Kivu, and ranging in age from two years old to 80.
This year's report also includes a list of groups credibly suspected of committing or being responsible for patterns of rape and other forms of sexual violence in situations of armed conflict on the agenda of the Security Council. These include parties in the Central African Republic, Côte d'Ivoire, DRC, Mali, South Sudan and Syria, among others.