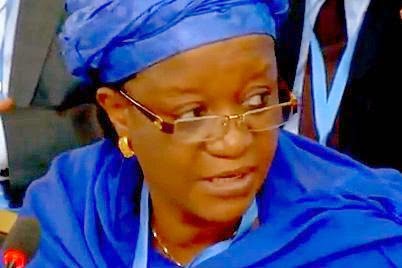 Zainab Bangura
UNITED NATIONS, April 24 — Amid reports of rapes in Sri Lanka targeted at Tamils, Inner City Press on April 24 asked the UN's Zainab Bangura, Special Representative of the Secretary-General on Sexual Violence in Conflict, what if anything the UN is doing about it. UN video here from Minute 15:15, Inner City Press video here and embedded below.
Bangura replied that she is "concerned, worried" and has spoken with Sri Lanka's Permanent Representative, Palitha Kohona, about it, urging him that Sri Lanka designate a "focal person" on the issue.
Inner City Press asked about a report authored by Yasmin Sooka, who previously served on one of the UN's panels looking at war crimes in Sri Lanka. Bangura said Yasmin will be in New York "next week" and they will meet.
The UN can't even keep track of its own statements. On alleged rapes by UN peacekeepers in Mali, the UN told Inner City Press in January that the investigation was finished. Then on April 23, the UN's Mali envoy Bert Koenders said it won't be finished for two or three weeks, but predicted or pretold that the UN peacekeepers will be cleared.
Bangura, when Inner City Press asked, didn't know which was true, or any update on the rape charges against UN peacekeepers themselves.