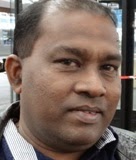 Joseph Stalin
The Government, Semi- Government and Private Trade Unions Collective Committee has voiced its objections against the involvement of the courts with regard to Trade Union issues, General Secretary of the Ceylon Teachers Union Joseph Stalin stated during a media briefing today.
Stalin who was representing the Government, Semi- Government and Private Trade Unions Collective Committee said that protesting was a fundamental right and the government should not involve the courts and take away the rights of the people.

Stalin made these remarks with regard to an interim order issued by the Colombo District Court yesterday (27) preventing the 48 hour strike organized by the Health Services Trade Union Alliance, urging the Health Ministry to fulfil various demands put forward by the Unions.
The order was issued following a petition filed against the strike by a patient.
Joseph Stalin went on to say that around 40 Unions were engaged in the strike action, which was a token strike, adding that the government should not have gone to the extent of involving the courts in this issue.
He stated that due notice had been given with regard to the strike, while attempts had also been made by the Unions to hold discussions with the Ministry of health in this regard.
Stalin added that this action by the government is a violation of their rights and added that courts cannot interfere in issues faced by the Trade Unions as per Article 12 of the Labour Law. (Ceylon Today Online)
By Zahra Imtiaz
Demands of the striking TUs
By Saman Rathnapriya
1/ Transport and disturbance allowance for staff. Rs.10000 per month (equal to 80USD )
2/ To get increase extra duty allowance starting from Rs.200 per an hour ( 1.5 USD)
3/ Telephone allowance for special grade officers Rs.4000 (32 USD)
4/ Duty free vehicle permit for grade one and special grade officials.
5/ Get corrected salary amorally caused technical service staff due to implement of 2008/7 public administration circular.
6/ Grade 01 promotion for higher category services as ministry allowed for lower category staff in the ministry.
Based on these demands joint council of nursing –psm- paramedics services in government health service launched a one day sick leave campaign in November 01 2013. After that having several rounds of discussion with ministry staff found no effect for above demands. Hence the said trade union alliance decided to conduct 2 days sick leave campaign on November 27/28 and it is going on this moment.
Based on this trade union campaign Sri Lankan government used their judicial power to curb Trade union action. Court order issued to influence the ongoing action.
Apart from that government is using its media mechanism to suppress strike staff.