Democracy and Freedom, Medamulana-Style by Tisaranee Gunasekara
"…the tradition of giving pretty names to ugly things is as old as warfare."Christopher Hitchens (Arguably)
Organised mobs are important weapons in the Rajapaksa armoury.
An organised mob was deployed on Tuesday to prevent Channel 4 journalists from travelling to the North1. For hours, two trains were stuck at the Anuradhapura station because the rail tracks were occupied by "nearly a thousand supporters of North Central Provincial Council Chief Minister and supporters of his brother Deputy Minister SM Chandrasena"2.
Though the regime had imposed a ban on demonstrations ahead of the Commonwealth, the police gave the mob a veritable carte blanche.
"The demonstration was also joined by several Buddhist monks affiliated to the government… (And) was organised under the leadership of the NCP Chief Minister's Public Coordinating Officer T Upasena and Coordinating Secretary of Deputy Minister Chandrasekara, Nilantha Ekanayake, reports add"3.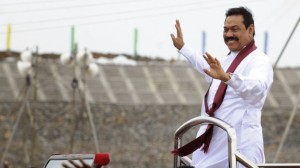 Another organised mob was deployed to 'protest' outside the UNP Headquarters where a meeting highlighting human rights-violations by the regime was taking place. Earlier the authorities had prevented members of the 'Families of the Disappeared' from travelling to Colombo4. But the mob outside 'Sirikotha' was allowed to burn tires, destroy UNP decorations and attack Ranil Wickremesinghe's vehicle, while the police watched in silence.
Two days previously, another contingent of 'demonstrators' had appeared at the Katunayake Airport to protest against the arrival of Channel 4 journalists. Since the airport is a high security location, the freedom accorded to the 'demonstrators' (who reportedly 'protested' for about two hours) sufficed to demonstrate their Rajapaksa provenance.
The Rajapaksa saffron-mob, the BBS, is planning to surround 'Sirikotha' today over the Channel 4 issue.5 The self-appointed protectors of Sinhala-Buddhism have nothing to say about the honoured Rajapaksa guest, Casino-King, James Packer.
The government which did not hesitate to deploy the army (under the command of a brigadier and three Lt. Colonels) against the peaceful protestors of Weliweriya did nothing to deter any of these organised mobs. If asked, some minister would say that this amazing forbearance is proof positive of the Rajapaksa government's total commitment to democracy and freedom.
In Rajapaksa Sri Lanka there is freedom to say anything, so long as you do not criticise the Rajapaksas (even ministers are fair game, but not the 'First Family'). In Rajapaksa Sri Lanka, there is freedom to do anything, so long as you do not use it to demonstrate or organise against the Rajapaksas.
That is democracy and freedom, Medamulana style.
At one point, a Channel 4 journalist asks the 'protestors' how many of them had seen any of the controversial movies they are so agitated about. None had. Nothing more was needed to prove that these are not bona-fide protestors taking an informed stand against the work of Channel 4 but paid-hirelings who are sowing terror on the orders of their political masters.
The regime is reportedly incensed that the British Minister for Foreign and Commonwealth Office talked about human rights at the Commonwealth Peoples Forum. Minister Rambukwella says that "he cannot vouch for the safety of foreign media personnel who travel outside the Colombo city"6. He also boasted that "recently we even deported an Australian and a New Zealander who were engaged in activities that do not come under the conditions in which their visas were issued"7. He then proceeded to warn British PM Cameron not to talk about human rights issues because his invitation was 'not based on that'8. Mr. Cameron is scheduled to visit the Uthayan newspaper in Jaffna; he is likely to talk to the media frankly, even if he is not allowed to hold a formal media conference. When he mentions rights-violations and accountability what will the Rajapaksas do? Organise demonstrations against British colonialism while revelling in the hosting of that colonial-progeny, the Commonwealth9? Detain PM Cameron and deport him?
Clearly the Ruling Siblings lack the mental capacity to understand that by acting like Medamulana thugs during the Commonwealth Week, they are harming their own cause and bringing dishonour to the country they supposedly represent.
And prove their critics right. The patriotic Rajapaksas could not have bestowed a greater gift on pro-Tiger Diaspora-elements – and the dead Vellupillai Pirapaharan whose Birthday falls this month.
The Commonwealth Summit is going to become a poisoned chalice for the Siblings, thanks to their own uninformed maximalism, their uncouth bullying and their ignorant belief that they can fool all the people all the time.
Mercy and Justice, Medamulana-Style
Thanks to the Commonwealth Summit, the world might get some excellent insights into Rajapaksa thinking and governance.
Take, for instance, the laying of a wreath by Canadian MP Deepak Obhrai at Elephant Pass. The wreath is 'In memory of all innocent Sri Lankan victims of violence', as the label attached to it stated. Anyone not turned addlebrained by maximalism would have realised that the wreath is for all victims of the war, and left it at that.
Sadly, sense is the rarest commodity in the Rajapaksa-milieu; Gotabhaya Rajapaksa, no less, dived into the unnecessary fray, urging Commonwealth delegates "not to strengthen the hands of those promoting separatist sentiments. Defence Secretary Rajapaksa was commenting on Canadian MP Deepak Obhrai laying flowers at Elephant Pass on his way back from Jaffna"10. The Canadians not only denied that lie publicly, with photographic evidence to buttress their denial; Canadian Foreign Minister "followed up on twitter by noting that only about half the 51 government heads would be attending. 'Lowest number in years,' he wrote."11
Multiplying enemies seems to be a Rajapaksa forte.
What a pity for Sri Lanka that the Rajapaksas did not stop to wonder why the LTTE is still banned in Canada; or why Canada shut down the World Tamil Movement for being a Tiger-proxy and seize its assets; or why Ottawa extradited Suresh Sriskandarajah alias Waterloo Suresh to face terrorism charges in the US. Interestingly, the super anti-terrorist Rajapaksas went out of their way to save Mr. Suresh from American justice: "The Sri Lankan government has asked the US to abandon the prosecution of Mr. Sriskandarajah…. The letter (to the State Department)…urged the US to drop the charges against Mr. Suresh 'in light of his publicly recognised efforts to secure a lasting, peaceful reconciliation for the Tamil people'…."12 Though Washington ignored Colombo's impunity-plea, that judge was influenced by it to deny the maximum sentence the US prosecutors were asking for: "…it seemed the Court listened to the 'extraordinary request' by Sri Lanka to sentence him to just mere two years behind bars".13
Mr. Suresh had pleaded guilty to the charge – that of 'conspiring and attempting to procure sophisticated submarine and warship design software, night vision equipment and other electronic equipment'14 for the Tigers. This display of mercy comes from the same Rajapaksa government which accuses any opponent of being terrorist-lovers and arrests Jaffna youth for carrying posters with pictures of Vellupillai Pirapaharan.
Is Mr. Suresh blessed with powerful friends in Colombo, such as Tiger weapons-procurer-in-chief turned Rajapaksa-acolyte, Kumaran Pathmanathan (KP)? Was that why a government which criminalised mourning in the North was so forgiving to a Tiger weapons-procurer?
Persecution for opponents; impunity for friends – that is mercy and justice, Medamulana-Style.
1 http://blogs.channel4.com/miller-on-foreign-affairs/channel-4-news-blocked-mob-sri-lanka/454
2 http://www.srilankamirror.lk/news/11735-minister-supporters-block-macrae-s-vanni-visit
3 ibid
4 http://www.canberratimes.com.au/world/sri-lankan-security-forces-detain-protesters-to-stifle-all-dissent-during-chogm-20131114-2xhh3.html
5 http://www.srilankamirror.lk/news/11747-bbs-to-surround-sirikotha
6 http://www.ceylontoday.lk/16-47456-news-detail-cannot-vouch-foreign-journalists-safety.html
7 Ibid
8 http://www.bbc.co.uk/news/uk-politics-24934768 http://www.bbc.co.uk/news/uk-politics-24934768
9 CHOGM – Commonwealth Heads of Government Meeting – reflects the original condition of the Commonwealth – a group of dominion states which have a common head of state – the British monarch.
10 http://www.island.lk/index.php?page_cat=article-details&page=article-details&code_title=92059
11 http://news.nationalpost.com/2013/11/13/sri-lanka-accuses-canadian-government-of-placating-tamil-tigers-as-row-over-commonwealth-summit-grows/
12 http://www.asiantribune.com/node/66267; http://news.nationalpost.com/2013/03/10/sri-lanka-urges-u-s-to-drop-charges-against-canadian-accused-of-supporting-terrorism/
13 http://www.asiantribune.com/node/66267
14 http://www.therecord.com/news-story/4129143-local-grad-faces-maximum-15-year-sentence-in-the-u-s-for-terrorism-support/
– Courtesy sri Lanka Gaurdian