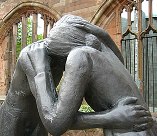 Sri Lanka's top leaders hold reconciliation talks Colombo: Sri Lankan President Mahinda Rajapaksa and UNP leader Ranil Wickremesinghe on Monday held talks here to resolve differences over opposition's participation in a parliamentary panel to hammer out a solution to the Tamil issue.

Wickremesinghe led a United National Party (UNP) delegation to the 'Temple Trees', residence of Rajapaksa at his invitation.
The two sides discussed Rajapaksa's move to convene a Parliamentary Select Committee (PSC) to hammer out a solution to the problems concerning the Tamil minority.
Sources said that outlining his reasons to convene the PSC, the Sri Lankan President told the UNP that the bilateral talks took place between the TNA, the main Tamil party and the Sri Lanka Freedom Party (SLFP), the dominant party in the ruling UPFA alliance, and not between the government and the TNA.
Therefore the talks need to be expanded to include all political parties.
The UNP sources said that the President invited them to take part in the PSC and the UNP assured that opposition could take part in the PSC process if the government was able to take meaningful steps to create conditions conducive for its participation.
The UNP had held that participation of TNA in the process was imperative and that government must take action to implement the Lessons Learnt and Reconciliation Commission (LLRC) recommendations on which both the government and the opposition held common ground.
Ever since the idea for a PSC was mooted doubts always lingered about the opposition's participation.
The Tamil National Alliance (TNA) maintains that agreement from their bilateral talks with the government should be the basis for setting up the PSC agenda.
The SLFP-TNA talks remain stalled since January of this year. The talks achieved only limited progress since they began in January of 2011.
However, Rajapaksa is averse to formulating a solution based solely on government's talks with the main Tamil party.
The Sri Lankan President contends that any solution formulated only with limited consultations may not achieve wider acceptance.
The TNA on the other hands points to various instances of stalled reconciliation talks at different times.
In a related development, External Affairs Minister GL Peiris departed here today on a four day visit to Washington.
He will meet US secretary of state Hilary Clinton on May 18. Sri Lanka is expected to apprise the US government on the steps taken by it to implement the recommendations of the LLRC.
ZN