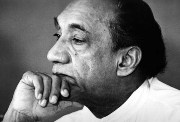 J.R.
Presidential Secretary Lalith Weeratunga on Monday asserted that President Mahinda Rajapaksa would have reacted differently if he had come under the same pressure as the late President J. R. Jayawardene. J. N. Dixit had been lucky that he had had to deal with JRJ and not President Rajapaksa, Weeratunga said.

Weeratunga was speaking at the launch of The Island staffer C. A. Chandraprema's book 'Gota's War' at the Waters Edge in the presence of President Mahinda Rajapaksa and Defence Secretary Gotabhaya Rajapaksa. Among the distinguished invitees were many diplomats, including Indian High Commissioner Ashok K. Kantha.
Top Western diplomats shunned the event, though defence attaches from some missions were present.
Weeratunga, who had been privy to confidential talks between President Rajapaksa and foreign dignitaries trying to thrust a ceasefire on SriLanka, said that the Sri Lankan leader had refused to give in to international pressure.
Weeratunga said that the role played by India should be intensively discussed.
The Indian intelligence agencies had a hand in planning and executing terrorist strikes in Colombo in the mid-eighties, Weeratunga said quoting from the book. He described the events described in the book as "home truths." When the key suspect in the CTO bomb blast was arrested by the CID, his release had been secured by India, Weeratunga said citing excerpts from the book. After the bombing, troubled by his conscience, the bomber had even donated blood to treat the victims. The suspect who smuggled the bomb into the CTO had watched the blast from a distance.
Weeratunga also recalled how an Indian team, led by its then National Security Adviser M. K. Narayanan, had arrived in Colombo in April 2009 in the wake of the visit by UK Foreign Secretary David Miliband and French External Affairs Minister Bernard Kouchner to force the government to throw a lifeline to the LTTE.
If not for Indian interference, the government could have crushed terrorism years ago, Weeratunga said, adding that the Vadamarachchi operation (Operation Liberation) had been progressing steadily when New Delhi stepped in.
Sri Lanka firmly believed if that operation had gone on, the country could have been rid of terrorism more than two decades ago. Reading from 'Gota's War', Weeratunga said while the Vadamarachchi operation was on, the Indian Envoy Mr. J. N. Dixit met President Jayawardene and bluntly told him that India would not stand by idly and allow Jaffna to fall into the hands of the army and if the military operation continued, there could be unforeseen consequences. Asked to explain what these 'unforeseen consequences' could be, Dixit had told Jayawardene that military aid might be given by India to the LTTE leading to the possible dismemberment of Sri Lanka.
IS