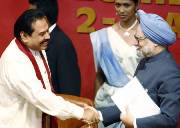 The Indian intelligence agencies had a big hand in planning and executing terrorist strikes in Colombo in the mid-eighties, the President's Secretary Lalith Weeratunga said. Reading from a book, Gota's War, at its launch here, he said the role India played in Sri Lanka needed "intensive discussion." He described the events described in the book as "home truths."

Sri Lankan President Mahinda Rajapaksa was under intense pressure from India, United Kingdom and France to stop the Eelam War IV in April of 2009.
But "he did not cave in to external pressure," Mr. Weeratunga has revealed.
Mr. Weeratunga was privy to the meetings. The Indian team, led by its then National Security Adviser M.K. Narayanan, had arrived here in April, just as the Lok Sabha elections were on in India, and just before Tamil Nadu went in to vote. For different reasons, Foreign Ministers of England and France were here too, with the same agenda.
'Violated sovereignty'
The book launch function, meant to celebrate Defence Secretary and President's brother Gotabaya Rajapaksa's contribution to the war, turned out to be an India-bashing session: India aided and abetted terrorism, and repeatedly violated Sri Lanka's sovereignty. Its High Commissioner during the period dictated terms to Sri Lanka.
"…When the Vadamarachchi operation commenced, the Prime Minister of India at that time, Rajiv Gandhi, issued a strong statement against the operation…Sri Lanka could have been rid of terrorism [at that time, but for the] high-handed interference of the then Indian envoy, Mr. J.N. Dixit," said Mr. Weeratunga, to an audience that comprised all top elected leaders and officials and diplomats in Sri Lanka, including President Rajapaksa and the Indian High Commissioner Ashok K. Kantha.
Sri Lanka firmly believed that if this operation had gone on, the country could have been rid of terrorism more than two decades ago. Reading from the book, Mr. Weeratunga said: "While the Vadamarachchi operation was on, the Indian Envoy Mr. J.N. Dixit had met President Jayawardene and bluntly told him that India will not stand by idly and allow Jaffna to fall into the hands of the Army, and if the military operation continued, there could be unforeseen consequences. Asked to explain what these 'unforeseen consequences' could be, Dixit had told Jayawardene that military aid may be given by India to the LTTE leading to the possible dismemberment of Sri Lanka."
R. K. Radhakrishnan
The Hindu