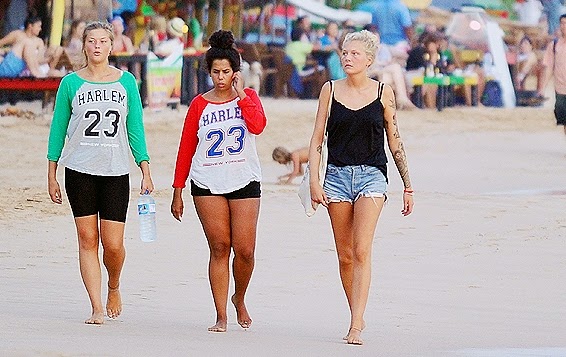 In search of the sun, sea and sand:
Is enough being done to protect tourists?
Recent cases of harassment and rape of foreign women have raised concerns regarding the safety of tourists arriving in the country. Last week, a former Chairman of the Weligama Pradeshiya Sabha was arrested, produced in Court and remanded for sexually harassing a 22-year-old Swedish woman at a resort in Weligama. Earlier this month two police constables were arrested at the popular tourist destination Ella, in Badulla district for sexually harassing a 27-year-old German who was holidaying with her boyfriend.
The victim was dragged into a three wheeler where she was allegedly harassed. On a complaint, Ella police arrested the two 29 year-old police constables, also residents of Ella.
In another case an Australian University student who was on an educational tour in Ambalangoda was allegedly raped by a tour guide.
According to Sri Lanka Tourism Development Authority (SLTDA), of the total number of tourists arriving in the country, 44.6 percent are females while a majority of the tourists are from Western Europe. Last year, the country recorded 421,037 tourist arrivals from Western Europe with a majority from Britain (137,416), followed by Germany (85,470) and France (64,388). In 2012 the number of arrivals was 373,063.
Commenting on the recent rise in the cases of harassment, Colombo University's senior lecturer in Sociology, Dr. Harini Amerasooriya said, although the number of foreign tourists arriving in the country had increased authorities have failed to put into place a mechanism that ensured the safety of female tourists.
"This is an indication of the general lack of law and order in the country. Authorities should ensure the safety of tourists to protect the tourism industry. Unfortunately, at present there is a 'get-away' attitude therefore there will be more incidents of this nature in the future. Laws should be strengthened and punishment for crimes against tourists should be severe and the process is expedited," she said.
Dr. Amerasooriya charged that many suspects had political links and failure by relevant parties to crackdown on local government members have resulted in criminals in certain areas continuing their abusive practices. She said Sri Lanka was once known to be safe for even foreign women to travel alone, but the situation was not so today.
When the Sunday Times contacted the Sri Lanka Tourism Development Authority they were unwilling to comment. Although an email was sent as requested by them to the Director General Dr. D.S.Jayaweera there was no reply. Following several calls, the Sunday Times was told to contact the Tourist Police.
However, Tourist Police Director Senior Superintendent Cecil de Silva said he could not comment on measures taken to ensure the safety of female foreigners adding that only the police spokesman was allowed to do so.
When Police spokesman Ajith Rohana was contacted he said 99 percent of the suspects involved in rape and sexual harassment cases had been arrested. He said hotel managers have been requested to create awareness and be vigilant of any sexual harassment incidents occurring in their hotels.
According to him 1,000 tourist police officers have been deployed in the 24-hour operation units in Colombo and other tourist areas of Anuradhapura, Polonnaruwa, Dambulla, Kandy, Nuwara Eliya, Kalutara (Moragalla), Galle (Narigama), Ampara (Arugambay) and Negombo (Ethukelle).
By Nadia Fazlulhaq
ST