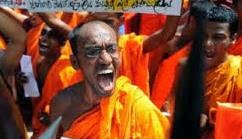 Monk violence on the rise ( file photo)
A journalist training programme — funded by an international non-governmental organisation based in the United States – was abandoned on Friday after Buddhist monks disrupted it in the wake of the US-sponsored resolution against Sri Lanka in Geneva. The two-day in-house programme for 30 journalists was being held in Polonnaruwa on the theme of 'search for peace' when it was disrupted by the monks four hours after it began. The journalists taking part were from all ethnic communities in the Ampara, Batticaloa and Trincomalee districts.
"About 20 Buddhist monks entered the hotel where the workshop was taking place and said that any US-funded programmes will not be allowed to be held in the district and they wanted the organisers to call off the programme," the spokesman for the INGO Search For Common Ground said.He said the monks told them that as the US had moved a resolution against Sri Lanka they would not allow US-funded projects in the district.
The spokesman said some journalists had argued that they should be allowed to go ahead with the programme as it would benefit them, but the monks warned them they could face repercussions if they continued. "We decided to call off the programme and told the journalists to go back home. However a few female journalists were allowed to stay overnight as they could not travel at night," he said.
The INGO on its website says it is an international non-profit organisation operating in 30 countries and its mission is to transform the way the world deals with conflict away from adversarial approaches toward cooperative solutions.
By Chris Kamalendran
ST