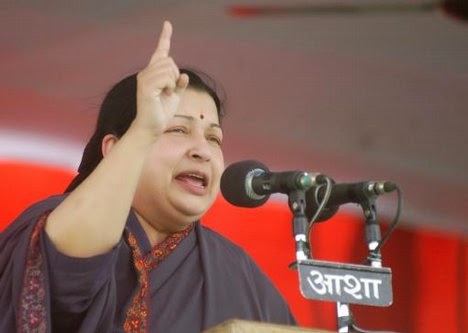 TNN
CHENNAI: Chief minister J Jayalalithaa said steps would be taken to make India move a resolution at the UN seeking action against Sri Lanka for killing innocent Tamils during the war. At a meeting in Madurai on Friday, she said she would ensure that those responsible for the genocide are punished. The assurance comes on a day the Centre faced flak from parties and activists for abstaining from voting on a USbacked resolution on Lankan war crimes.
"When your government is formed at the Centre, India would move a resolution in the UN to get those behind the killing in Sri Lanka during the war punished ," Jayalalithaa said. She also said Tamil Nadu fishermen could carry on fishing without any trouble and the rights of Tamils would be established.
Jayalalithaa continued her tirade against Congress alleging that the Centre was meting out stepmotherly treatment to Tamil Nadu fishermen and Sri Lankan Tamils.
Replying to Union minister P Chidambaram's recent comment that she was not aware of ground realities as she was heli-hopping to her campaign venues, she said in her 32-year political career she had visited every nook and corner of the state. "I have campaigned for months during Lok Sabha and assembly elections since 1984 and have walked in every village," she said. "I have campaigned for Chidambaram himself. He has followed me in an open jeep," she said and justified her chopper travels saying that she wanted to cover many places in a short time.