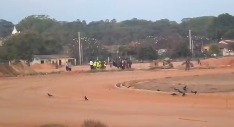 The grave site
Tamil Guardian
Sri Lankan police have continued to block access to a site in Trincomalee where skeletal remains were found last week, sources have told the Tamil Guardian.
Workers, who were digging a well, uncovered skeletons at the playground in Trincomalee last Thursday and police have since blocked all access to the site.

Speaking to the Tamil Guardian, a source that wished to remain anonymous stated that access to the site was still being blocked by the Sri Lankan police. A local judge was reported to have visited the area, but still the authorities have refused to release an update on the situation.
The news comes as 2 more remains were unearthed at the Mannar mass grave site. The total number of bodies found has now risen to 64.