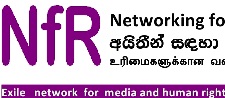 NfR Alert: 29 June 2012
This morning around 11.45 am around 25 offices from police intelligence arms, namely Criminal Investigation Department (CID) and Colombo Crime Division (CCD) raided two popular tri lingual news and opinion web site operated form Colombo. They are http://english.srilankamirror.com/ and http://www.srilankaxnews.com/. Both Sri Lanka Mirror and SriLankaXnews are read by tens of thousands of readers daily.

Sri Lanka Mirror is registered with the information ministry and SriLankaXnews is the official web site of the opposition United National Party. Both of offices we located at 71, Ferry road, Athul Kotte, Kotte, a suburb of Colombo.
Police has obtained a court order to search the premises of both web sites. But the acting police spokesperson Sanjeewa Madawatta has told Yukthiya web site that he dose not have any knowledge of the raid and reasons for it.
Police has surrounded the residence of Mr. Ruwan Ferdinanz, current editorial director of the Sri Lanka X news and former editorial director of the Sri Lanka Mirror and has demanded that he surrender his laptop computer to them. By the time he has left the residence.
The journalists arrested are being questioned at the notorious 4th floor of the Criminal Investigation Department. They are:
Mr.Kalum Shwantha Rodrigu – Editor SriLanka Mirror
Ms.Shiwanthi Manawadu 0 Weekend editor, SriLanka Mirror
Ms.Himashi Karunarathan, Features editor, SriLanka Mirror
Ms.Tarindu Rajapaksha, Feature writer, SriLanka Mirror
Mr.Ajith senavirathna, Photo journalist, SriLanka Mirror
Mr.Zidick Kariyappa, editor, Tamil section, Sri Lanka X news
Mr.J. Subash Jayawardana, Journalist , Feature writer, Sri Lanka X news
———-
Mr.Asanaka Nimathna, Managing editor Sri Lanka Mirror
Ms. R.W. Premawathi, Offcie assistance, Sri Lanka Mirror
Mr. Sunil Jayasekara, secretary of the Free Media Movement of Sri Lanka told NfR Sri Lanka that this raid is another attempt to intimidate non state media in Sri Lanka and joint efforts need to face mounting intimidations and censorship. He calls on all democratic forces in the country to rise against this dangerous trend of media suppression.
Mr. Ruwan Ferdinanz told NfR Sri Lanka that at a time that three Provincial Councils dissolved and elections are to be held in two months time closure of opposition and independent media outlets and threats an intimidation directed against journalists and media should be considered as a great threat to rule of law and democracy in Sri Lanka.