COLOMBO, Sri Lanka (AP) — On the first anniversary of his election, Sri Lanka's president on Friday pardoned a former Tamil Tiger insurgent accused of conspiring to kill him 10 years ago.
Since taking office, President Maithripala Sirisena has taken steps to advance post-civil war reconciliation, including providing relief to Tamil rebel suspects and pledging to investigate allegations that government troops and Tamil rebels committed war crimes..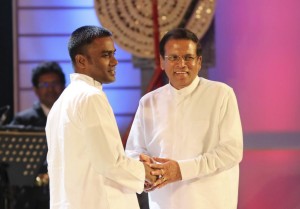 After being freed, Sivaraja Jenivan greeted Sirisena on stage at the president's anniversary celebration.
Jenivan was arrested in 2005 in a passenger bus leaving Sirisena's hometown of Polonnaruwa, attorney U.R. de Silva said.
He spent 10 years in detention pending judgment and was convicted last year of being an accomplice to a rebel who was planning to assassinate Sirisena. He was sentenced to a further 10 years in prison.
In pardoning him, Sirisena considered that the 36-year-old Jenivan had already been detained for 10 years, the attorney said.
The Tamil Tiger rebels fought for more than 25 years to create an independent state for ethnic minority Tamils.
The civil war ended with the Tamil Tigers' defeat in 2009.