By Sanjeewa Wimalagunrathne and Tharaka Hettiarachchi.
It has been a decade in to their displacement and hundreds of families are still awaiting the dawn of a new hope—the hope for a new home. On the other side of the coin, returning lands in Sampur under the current regime in 2016 was a great achievement for the affected community who has been displaced for years. According to the former Eastern Province Governor Austin Fernando, 825 families and 12,000 individuals were displaced in Sampur.
How many years have passed without any help? We will be happy back in Sampur…… There's nothing like home. We just want our home back. We are waiting …. hoping …
-Victims in Sampur-(CPA Documentary of Sampur land issue,6 April, 2016)
Many people were displaced and sinking in misery without hope for years in Sampur and it was a hallmark in the land releasing history in post war Sri Lanka, as it has given a glimpse of hope ending the decade long struggle in getting back lands.
Releasing of lands is one of the acute issues pertaining to the post war period in Sri Lanka. A decade has passed, since marking the end of a thirty-year war. Moving from a tragic past, there are a number of issues that require dire attention that needs immediate intervention. Hence, restitution should to be redressed in a broad manner in gaining the trust of victims and aggrieved persons.
Restitution  and restorative justice
Restitution constitutes a form of reparation and the Legal literature states "The term restitution refers to an equitable remedy (or a form of restorative justice) by which individuals or groups of persons who suffer loss or injury are returned as far as possible to their original pre-loss or pre-injury position." According to Roth-Arriaza "restitution involves the return of property belonging to survivors that has been unjustly taken away from them".
The Sri Lankan government has a huge responsibility with regard to releasing lands which has been occupied by the military and police. Land occupation includes both state and private land occupation in the North and East. The reparations bill passed on 10th October 2018 and restitution via land releases is one of the key areas of focus under reparations. The right to receive reparations is one of the human rights.
In October 2015, at the 30th Session of the United Nations Human Rights Council (UNHRC), Sri Lanka cosponsored a resolution in which it pledged to address longstanding issues relating to the conflict, including prompt return of occupied land. Cosponsoring this resolution, the government of Sri Lanka is now responsible and committed to promote reconciliation, accountability and human rights in Sri Lanka. Moreover this was also accordance under the Consultation Task Force final report which was handed over to the Government on 3rd January 2017.
Land disputes vary from state to private lands
Categories of land disputes vary from state to private lands, such as; misplacement of documents of lands, landless and requesting for a land, boundary disputes or access to property disputes due to the death of original owner, secondary occupation of lands in conflict affected areas, boundary disputes which the neighbor has overlapped on his parcel of private land, state occupation of land and request to utilize it for 'public purpose', disputes in dividing state land within the family, secondary occupations of state land in which private parties have encroached especially on private temple lands that are held by a religious trust.
"Restitution should, whenever possible, restore the victim to the original situation before the gross violations of human rights law or serious violations of international humanitarian law occurred. Restitution includes, as appropriate: restoration of liberty, enjoyment of human rights, identity, family life and citizenship; return to one's place of residence, restoration of employment and return of property." – Former Eastern Province Governor Austin Fernando –
In January 2016, a Committee headed by the Secretary of Defense was appointed by President Sirisena to expedite the release of lands, reconstruction and resettlement work in the North. Followed by the committee set up commit to expedite land releases.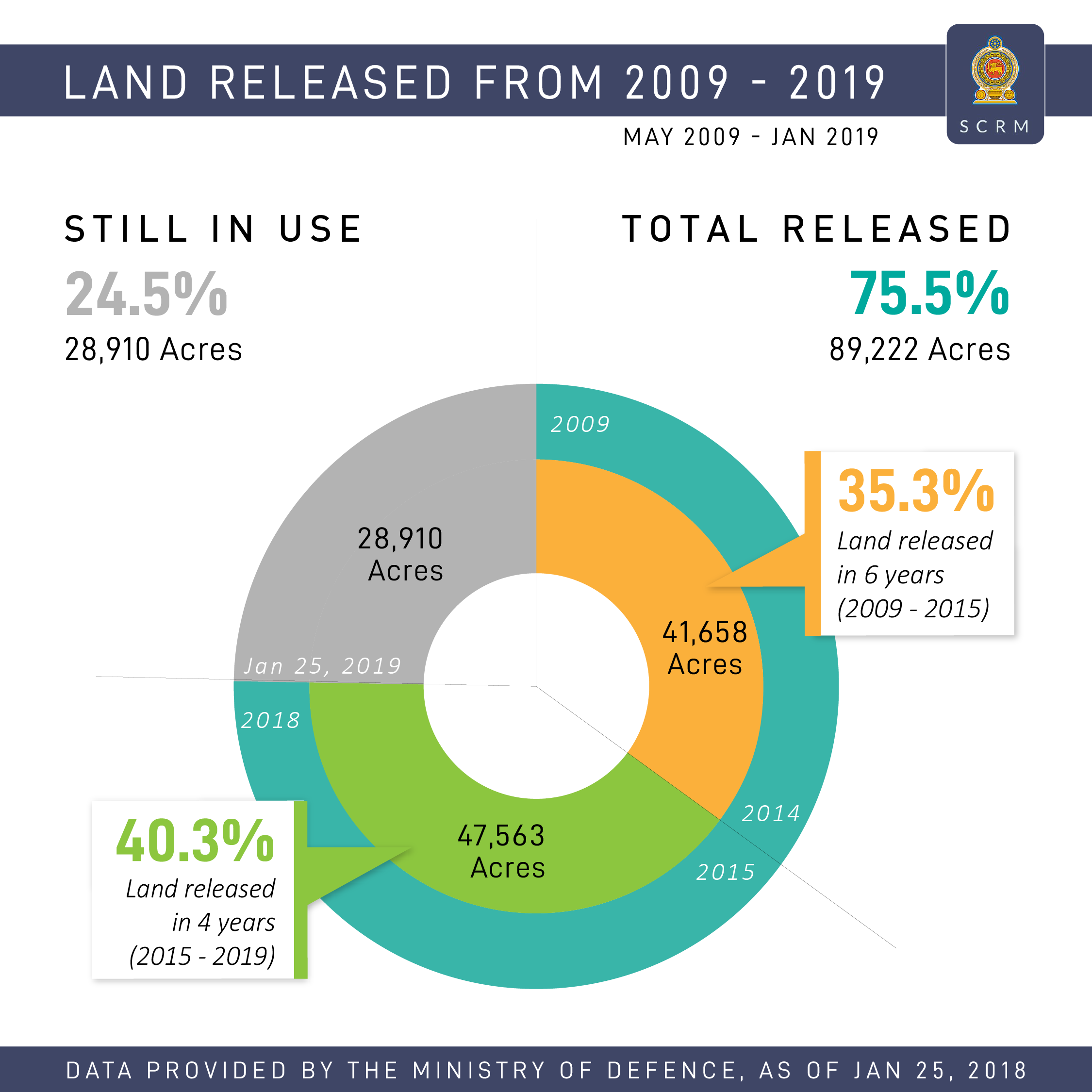 Studying the land releasing statistics issued by the government from May 2019 to 25th of January 2018, it is very much evident that there is a drastic improvement in land releases from 2015 onwards. Despite the fact that the Lessons Learnt and the Reconciliation Commission (LLRC) has stressed importance upon land restitution, the issue of land restitution has been almost absent till 2015. From May 2009 to 2014, only 41658.65 acres of land has been released within the six-year time period, whereas within the span of four years and a month, 47563.23 acres of land has been released; from 2015 to 25th January 2019. Land releasing data from 2015 to 5th January 2019 (private and state both) are as follows;
2009 to 2015 (Jan) – 41658.65 acres of land
2015 – 27478.76 acres of land
2016 – 7883.76 acres of land
2017 – 5160.59 acres of land
2018 – 5797.10 acres of land
2019 Jan 01 to 2019 Jan 25 – 1243.02 acres of land
There are 28,910 acres being occupied by 25th of January 2019 and the most significant changes in data were seen in state and private lands occupied by Forces. According to the data, 25379 acres of state land has been occupied, whereas the occupation of private lands are very low compared to the number of acres of state land given as 3531 acres. Presently the government has planned to release 1861.82 acres of private and state land. The government plans to release slightly more acres of state land than private land, and the data will be respectively, 1434.97 acres of land and 426.85 acres.
Currently 28,910 acres of land are being used and it is interesting to note that 88% of it is state and 12% of it is private land. However, given the stark contrast in land releasing between state and private land, it is apparent that state land releases have taken a backseat over releases of private land and positively, only 12% of private lands are to be released.
Issues related to land releases are numerous and returning the home of an individual is a key remedy in the light of sustainable reconciliation. As a responsible government it should recognize the violations and restore rights, namely; right to movement, right to property, right to self-determination and right to an adequate standard of living. Moreover, the right to property is recognized and protected internationally, having been included in Article 13 of the Universal Declaration of Human Rights (UDHR).
For sustainable peace and reconciliation
Owning a land in one's country is recognized as an essential requirement and is one of the ways to eliminate poverty and rebuild the lives of those who are deprived of it. Vagle and de Medina-Rosales states that conducting a restitution process in the aftermath of an armed conflict is thus a fairly new endeavor and is likely to be of topical interest in the future. Return to one's place of residence or restoration of livelihood is considered lifting up the victims physically and psychologically. No human being is willing to be displaced or bereft of shelter. It is discernible that the discharging of lands will inevitably lead to the re-establishment of the livelihoods of those victimised, bringing forth new hope and prospects to their lives.
The psychological triumph one can receive by having a land is immense, as the support they receive from their immediate community and social circles will restore in them much confidence, thereby paving the way to heal and rebuild the wounded souls of the victimized. This would undoubtedly benefit them in various ways. With the improvement of land releasing it is paramount to acknowledge that the current regime has worked towards gaining the trust of victims and have recognized them as equal citizens with the same rights and privileges. Moreover, the former Eastern Province Governor Austin Fernando's contribution to land restitution is noteworthy.
For sustainable peace and reconciliation, it is pivotal to address durable national solutions with land releasing disputes, such as livelihood support and infrastructure development to make the land releasing process more fruitful. Furthermore, there should be more emphasis on surveys regarding land occupation and land releases and also access to current surveys in order to have a clear perception concerning the topic.
Reparations, including the restitution of land if implemented aptly, can contribute to long-term peace building efforts and prevent further marginalization of war–affected communities. Closing upon a decade of war, the victims are yet in adversity and distress. In the light of the above, each and every process in transitional justice needs to be up surged in maintaining a healthy political situation in the country, despite hindering the process of transitional justice.