Image: Jensila Majeed speaking at a side event organised by IMADR at HRC 34 on Women and Minority Rights in Sri Lanka's TJ process. ©s.deshapriya
By Jensila Majeed, Former CTFSL member, Mullative.
75,000 Muslim were evacuated by the Liberation Tigers of Tamil Eelam (LTTE) in 1990, just because we were Muslims. Government of Sri Lanka (GoSL) or UN didn't intervene when Muslims were chased out from the North within 48 hours. Only 8 Sri Lankan Rupees for dry rations were provided by the Government.
After the end of the war in 2009, Muslims in the Northern Province were able to go back to our lands. But the GoSL or representatives of the Tamil community haven't invited us to come and settle in our lands until today. In 20 years the number of families has multiplied in many folds. Now it is not easy for us to go and settle in by ourselves. So far the Government hasn't given us any support to resettle with basic needs.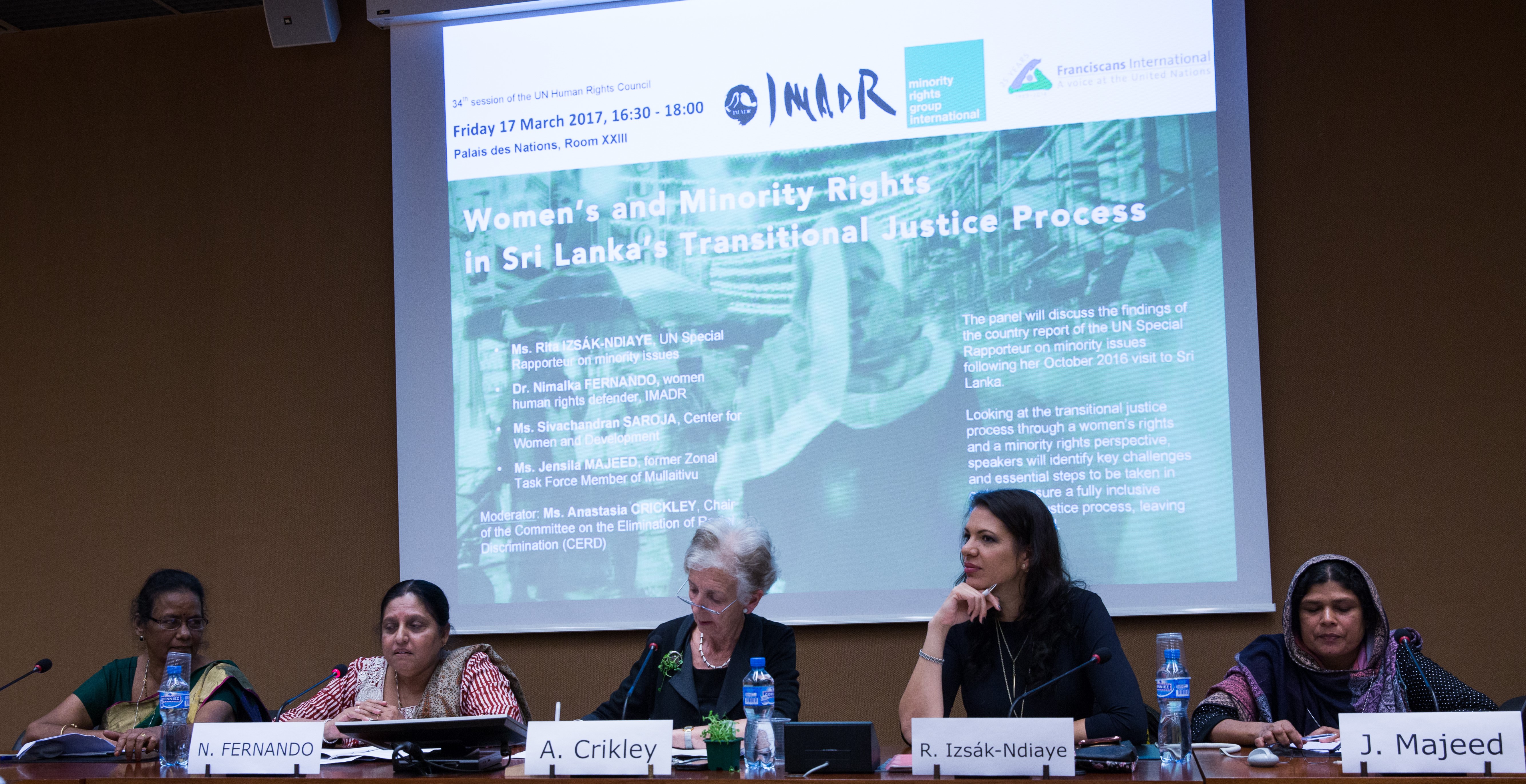 Therefore the Government is not showing any concern to provide lands for the returnees. Compare to the other four districts of the Northern Province, only Muslims in Mannar district got lands. But not everyone.
Land is a source of income generation for Muslim women, therefore not having land means no livelihood for Muslim women.
Due to the land issues, we also lost the voting right.
Due to this landless issue, returnees have gone back to their previous district while being registered in their home. Difficulties arise when they want to receive official letters.
While the issues of Tamils are discussed in the minority rights perspective, Muslims and our challenges are overlooked. This is the serious issue which needs the attention of the Government.
Challenges of the Muslim community are not taken seriously. It is unheard and submerged in the Tamil minority issues. While the land re-distribution is taking time due to the interference of both Muslim and Tamil politicians, disputes have occurred frequently.
When we talk about reconciliation and rehabilitation processes, the forced displacement of Muslim community has to be recognized as an atrocity against Muslims by the GoSL and Tamil political parties. In the North, Muslims are minorities among minorities.
Resettlement policy and a commission should be formed to investigate Muslims struggles to get justice.
To rebuild the relationship among the Tamil and Muslim communities in the North, reconciliation processes should take place.
Muslim Marriage Divorce Act should be reformed to eliminate polygamy and increase the minimum age of marriage to 18 years old from 12 years old. Not only we are affected by Muslim extremists, but also we are attacked by Sinhala Buddhist extremists.
Therefore, the Government of Sri Lanka has the obligation to ensure equal rights and equal opportunities for Muslims to live in our own land with dignity.
Translated summary of the speech delivers by Jensila Majeed at HRC 34 side event on 17th March 2017.