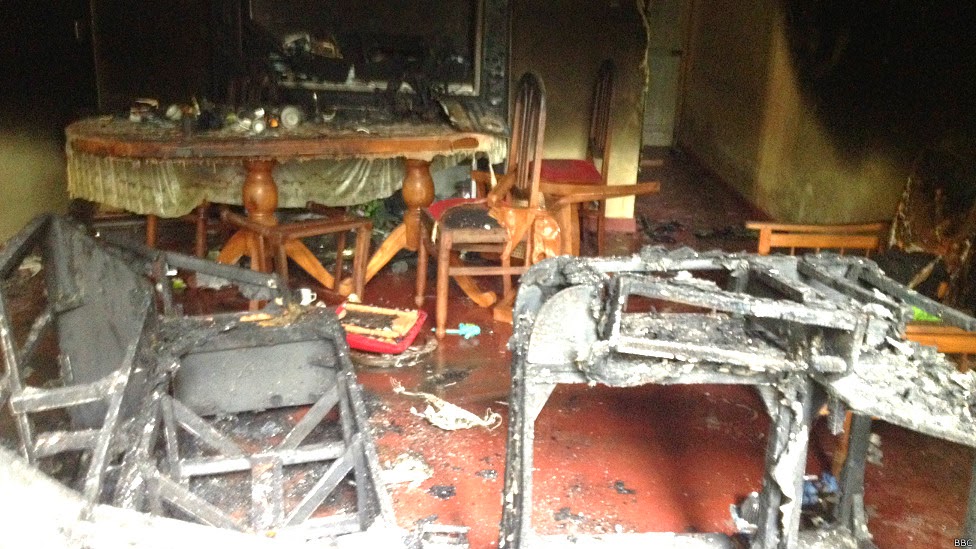 Burned ( Sandehsaya photo)
Opposition leader Ranil Wickremesinghe says chauvinism had been provoked through the speeches made at the public meeting organized by Bodu Bala Sena in Aluthgama on June 15. Making a statement in parliament today, he questioned the government as to why it did not intervene to prevent the meeting from taking place. The government hastens to obtain court orders to stop meetings by university students to protect free education, by claiming such meetings would inconvenience the public, he noted.
The participants had marched through Darga Town, where Muslims live despite requests by top Buddhist monks from the government not to allow such events to take place, said the opposition leader.
He asked the government to submit a detailed report into the incident and said he wanted to know as to why it had remained inactive while the incident spread.
Mr. Wickremesinghe accused the government of creating an environment to incite unrest following an attack on a shop and a vehicle carrying a Buddhist monk in Aluthgama.
The government has sent letters to the media, asking not to report the incident, he told parliament.
Premier answers
Responding to the opposition leader, prime minister D.M. Jayaratne said the entire episode began with a Muslim youth's assaulting Ven. Ayagama Samitha Thera over an incident involving the driver of the monk's vehicle.
Permission had been given to welcome the monk on the day he was discharged from hospital.
After the Aluthgama rally, as Samitha Thera was returning to his temple at Darga Town, certain persons had thrown stones at the vehicles carrying Buddhist monks, he said.
The PM told parliament that all those who had broken the law would arrested, adding the the situation has now been brought under control.
Rising up, the opposition leader said he had information that three shops were set on fire today.
He requested to hold an emergency meeting of party leaders to discuss necessary measures, but the government did not respond favourably to his call.
SLM