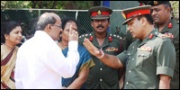 Indian diplomat in Jaffna, V. Mahalingam, who chose to insult the Eezham Tamils bereaving the Mu'l'lvaaykkaal genocide by participating the 'victory' celebrations of the genocidal Sinhala military at the Palaali camp in Jaffna, was in turn insulted by the occupying military and its commander Maj. Gen. Hathurusinghe on Thursday.
The consul at the Deputy Indian High Commission in Jaffna was offered neither a place in the stage nor a seat reserved for him, but was ignored by the SL military and officials of the colonial governor Maj. Gen. Chandrasri. Mahalingam getting out of the event was seen encountered by Hathurusinghe and entering into an argument. Later, a seat was offered to him in the frontline of the audience. Meanwhile school children in Jaffna were forced to participate the celebrations to 'honour' Sinhala soldiers with medals.
Mr V Mahalingam quarrels with SLA Jaffna Commander Maj Gen (retd) Hathurusinghe
The SL military event celebrating victory and remembering fallen genocidal soldiers took place at a fort-like structure built recently at Palaali as the joint head quarters of the three occupying forces. Even the British had not built military establishments like the ones now hurriedly built by the Sinhala military.
The SL military celebrations were organized from the funds allotted to the Northern Provincial Council run by the colonial military governor, Maj. Gen. G.A. Chandrasri. All the commanders of the three Sinhala forces occupying all the districts of the North came for the event.
The chairs at the event were labelled with names. But Mahalingam didn't have a name on any chair. Besides he was ignored and was not formally received by the officials of the occupying military and colonial administration.
Mahalingam was sulking throughout the programme. At the end, Hathurusinghe asked him for pardon in a voice audible to others.
Mr. Mahalingam insists on 'visiting' every function in the North and the Sinhala military and colonial administration were irritated over the super colonial attitude, news sources in Jaffna said.
Under-aged Tamil school children in Jaffna were forcibly brought to the occasion to 'honour' the occupying Sinhala soldiers in the parade, by making the children to present the soldiers with medals. The occupying soldiers in turn presented the children with lotus flowers in the Sinhala fashion.
The occupying soldiers 'honoured' by the school children were those who were in the front of the genocidal war.
The principals of the schools were intimidated to send the children, and the matter raises severe objection in Jaffna.
Tamil civil servants were also forced to attend. But despite strong intimidation by Chandrasri, many Tamil officials didn't participate.
The occupying military has 'invited' Tamil religious personalities to participate the victory day, but Christian Churches totally boycotted the programme. A few Saiva priests, especially from the temples in the High Security Zone participated.
A Saiva priest, who was made to speak, chose to speak on the effects of the Jupiter transit that has taken place this week, envisaging 'changes'.
TN