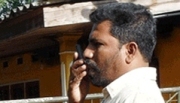 Sri Lanka x news journalist Shantha Wijesooriya addressed a written complaint to the IGP yesterday (8) in connection with an attempt to abduct him made by a group last Wednesday (5) who are suspected to be of the Govt. security divisions . Hereunder is the complaint made by Shantha Wijesooriya:

By registered post
Shantha Wijesooriya,
61, Sarabhoomi housing,
Kotagedera junction ,
Madapatha , Piliyandala.
Mr.M K Ilangakoon ,
IGP ,
SL Police Dept.
Dear Sir,
Attempted abduction
I, Shantha Priyadharhsana Wijesooriya , 48 years old and married residing at the above address , am employed at Lanka x news website as a journalist. On 2012-07-05 , at about 5.00 p.m. I traveled to Nugegoda to meet a friend. After I reached Nugegoda , I met another friend , by accident. Both of us then went into a Hotel which is situated behind Ananda Samarakoon outdoor stadium to have a cup of tea.
While we were drinking tea , two individuals arrived at that place , and I observed that one of them was intently watching me. Later when I went to the cashier's table to pay the bill, an individual wearing a brown shirt came near by. But being a journalist and as I have had nasty experiences before , I instinctively harbored suspicions regarding this individual. Thereafter , after informing my friend about this , we parted.
After that I went down the road behind the outdoor stadium to the market complex where I bought some beef from the beef stall . However when I was leaving the beef stall I noticed the same suspicious looking individual who was in the hotel earlier ,loitering around the beef stall along with another .. Now , since my suspicions were confirmed , I began running towards the center situated in the self employment headquarters. Then the brown colored shirt individual went towards the Nugegoda market complex and the white shirted individual came behind me. I related this to a friend of mine who was carrying on business at the self employment headquarter .
Since the brown shirted individual headed towards me. I began running again towards the Samarakoon outdoor stadium rear road . As I was running down that road , I noticed another two suspicious looking individuals which made me to return to the former place where I was.
Since I was in a state of dire peril and anguish , I told my friend at the self employment headquarters to get me a three wheeler . But as no three wheeler vehicle was there known to him, I came to the main road.
As I came to the main road , an individual in blue Tee shirt caught me by my collar and tried to drag me to the place where he was. When I gave a shot to his hand , he got thrown away. This struggle caught the attention of those who were going along the pavements.
At that moment I jumped to the middle of the road and got into a three wheeler that was heading towards Nawala. When I looked behind from the three wheeler I saw the blue shirted individual coming down the road.
I have seen the brown colored shirt individual in the courts as well as at political meetings. I suspect that he belongs to the Govt. security divisions.
Previously when I was working at 'Mawbima' , a person who identified himself as Ananda Jayamana , of the National intelligence information division arrived in a white Van PB 9654 in front of the Mawbima office and threatened me accusing me of transmitting information to the Lanka e news website. At that time I lodged a complaint with the Piliyandala police and the police relief center regarding this threat and his collection of information about me from the grama sevaka of Madapatha where I live , and the residents of that area. My mother too had made a complaint to the Piliyandala police over collection of information regarding me by two unidentified individuals who had come to my home.
Prior to this incident , Dinamina , a Govt. Newspaper in a special report mentioning my name accused that I was working for a mudslinging website.
In the circumstances taking into account all the events ,it is my conviction that the Govt. security division is lying in wait to abduct me.
As I am having no security to go to a police station physically and make the complaint , I am forwarding this complaint in writing to you.
Yours truly,
Shantha Wijesuriya
(Journalist)
– Sri lanka X news