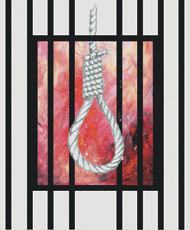 The Human Rights Commission of Sri Lanka (HRCSL), in its report, which is to be taken into consideration during Sri Lanka's Universal Periodic Review (UPR) by the United Nations Human Rights Council (UNHRC), has recommended that the country should abolish the death penalty, officials said yesterday.
The HRCSL encouraged the government to enact the Right to Information Bill with necessary changes. The HRCSL and the External Affairs Ministry have produced their separate compilations on the human rights situation -which are to be evaluated during the country's UPR on November 1 in Geneva. Besides these, the Centre for Policy Alternatives, Amnesty International, Human Rights Watch and a media group have made their submissions.
HRCSL commissioner Dr. Prathiba Mahanamahewa told Daily Mirror that, though Sri Lanka had signed the International Covenant on Civil and Political Rights, the country was yet to ratify one of the two Optional Protocols.
The First Optional Protocol establishes an individual complaints mechanism, allowing individuals to complain to the Human Rights Committee about violations of the Covenant.
The Second Optional Protocol abolishes the death penalty. However, countries were permitted to make a reservation allowing for use of death penalty for the most serious crimes of a military nature, committed during wartime.
"We recommended that Sri Lanka should do away with capital punishment. Death sentences can still be given. There are 339 convicts on death row. Though the death sentence is given, judicial executions are not carried out here. Therefore, it is better for us to abolish it from the statute book," said Dr. Mahanamahewa.
He said, "Those convicts have been on death row for years without being hanged or released.
Besides, the HRCSL stated in its report, Sri Lanka had yet to ratify and reflect in the national legal system the international human rights treaties, to strengthen the human rights framework in the country.
The HRCSL encouraged the ratification of the Optional Protocol to the International Covenant on Economic, Social and Cultural Rights, and the Convention on the Rights of Persons with Disabilities, as recommended by Joint Submission 15 (JS15) and its Optional Protocol. Implementation of international human rights obligations, taking into account applicable international humanitarian law, is another recommendation in the report. (Kelum Bandara)
DM