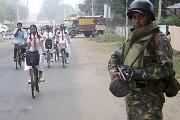 The occupying SL military-run 'civil' administration of the Northern province, led by Colombo's colonial governor of North Maj. Gen. (retd) GA Chandrasir, has instructed the educational sector officials in Vanni about whom they should invite as guests to events and meetings of the schools.
Those who could be invited are military officers, SL ministers, state officials and the politicians or operatives of the ruling UPFA alliance or the paramilitary outfits such as the EPDP. Those banned from the stages are elected parliamentarians of the TNA and representatives of civic bodies. The SL military has almost imposed an undeclared emergency in Vanni, prohibiting people from getting together for meetings without prior permission from the military.
The right to assembly is universally guaranteed by the Article 20 of the Universal Declaration of Human Rights (UDHR) and the Article 21 of the International Covenant on Civil and Political Rights (ICCPR) to which Colombo is a signatory.
Last week, a prize giving ceremony, which had been publicly announced, was cancelled at Vearaavil Hindu MMV School because the occupying military opposed the participation of TNA parliamentarian S Sritharan as the chief guest at the event. The SL military officials had summoned the zonal education officers to their camp on 19th June and passed the 'instruction' to cancel the event.
Likewise, the military has also 'punished' Pazhai MV School by ordering not to come out with its annual publications, as one of its earlier annual numbers had carried a message from Mr. Sritharan.
The occupying Sinhala military has raided event-halls on a number of occasions in the recent past alleging that the schools had 'failed' to seek permission in advance to conduct such meetings. The military officers have also blamed the school administrations for 'failing' to invite the category of guests as specified by their military administration.
According to SL military officers, the organisers of a public event should have prior permission from the nearby SL military base in their area so that they can specify the chief guests of the events.
Many schools are unable to fix dates for their upcoming events as the organisers are forced to wait for the slow processing of their 'applications' by the colonial governor, who wants to decide who the 'chief guests' should be, civil sources in Ki'linochchi said. The school principals and teachers are also reluctant to conduct such events. Opening ceremonies of many buildings are postponed awaiting SL governors response.
TN