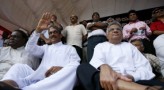 Opposition leader Ranil Wickremesinghe is to invite DNA chief Sarath Fonseka to join the combined opposition led by him, according to a senior MP of the UNP. A proposal in this regard is due to be tabled at the UNP working committee that meets tomorrow (May 21), said the party MP.

The WC committee will discuss Mr. Fonseka's freedom and his future politics, added the senior MP.
Meanwhile, speaking to the media at the opposition leader's office today, Ruhunu Janatha Party leader Aruna Soyza invited the ex-Army commander to join with the combined opposition in its battle against the corrupt Rajapaksa regime.
Mr. Soyza added the government was plotting to make Mr. Fonseka a leader of the Sinhala chauvinistic forces.
Srilankamirror