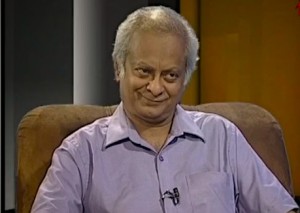 Professor Harendra: "today's abused child is tomorrow's abuser,"
Professor Harendra de Silva, Professor of Pediatrics, yesterday called on every individual to be active and work together as one community to eradicate child abuse and not to be passive perpetrators being silent on the issue.
Addressing the first news briefing of the 'Citizens for a Secure Sri Lanka', an informal network to protect women and children from abuse (It was formed two months ago by a group of individuals working in different organizations), the professor categorically said that if an individual remained passive over abuse cases, he or she was similar to a perpetrator and they were called passive perpetrators.
The Professor expressed his deep concern over child abuse and said that "today's abused child is tomorrow's abuser," therefore every parent, authority and organization should join together silently to eradicate the social menace from the country as it was non-existent many years ago when he was a student.
Highlighting the gravity of the issue, the Professor said, "According to reports about 4000 children have been sexually abused severely in 2011 in Sri Lanka and about 4,000 child abuse cases were pending in 2012. Not only that, a study has shown that about 40% of commercial sex workers were abused in their childhood and 65% homosexuals were themselves victims in their childhood."
Pointing out a vital factor referring to country's present situation, he said, "If the law against the perpetrators is not effective or it is not imposed impartially, people will lose confidence and resort to violence, taking the law into their own hands, while at the same time the perpetrators will not fear any more as he or she can get away."
"No one should withdraw a complaint against a perpetrator under duress or for any other reason. If any one does so, he or she is responsible for the break down of law," he stressed.
The Professor said that the common man should not choose violence as a means of seeking justice, but by being united as one force, they could make the authorities act responsibly.
Therefore, he and the other members, Visaka Tillekeratne, Justice for Victims, Caryll Tozer Perera, Ms. Shantha Jayalath, Girl Guides Commissioner, Shanthi Satchithanandan, Directress of Vilutha and student Kavindiya representing Girl Guide, of the Citizens for a secure Sri Lanka movement, requested all citizens of this country to join hands together with them on 30th September through engaging in a 'Silent Walk', prior to the World Children's Day, on October 01 and raise a united voice against the perpetrators to show that the children were not alone.
The event will be an island wide walk starting from three places in Colombo, in front of Devi Balika, Visakha and the National Library at 2.00 p.m. on Sept. 30. The other walks will commence in the morning in all other districts.
The commemorative walk is titled 'Silent walk' as it is not for violence but for duty. All participants are requested to wear white dresses.
By Madura Ranwala