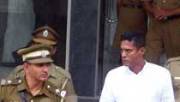 The Commissioner General of Prisons P. W. Kodippily has called for a report from the Tangalle Prisons Superintendent following Wednesday's remarks made by Tangalle High Court Judge Chandrasena Rajapaksa when he remanded the Geeganagamage Amarasiri alias Julampitiye Amare, the prime suspect in the Katuwana killings.

"This is a matter of serious concern and I instructed Tangalle SP to send me a report within three days. I expect to take further action after I receive the report," Mr. Kodippily told the Daily Mirror yesterday. High Court Judge Rajapaksa has reportedly said in open court that he had come to know that it was a prison officer who had opened the gate for Julampitiye Amare when he visited the prison.
He also said this was how prison officers had treated a murder suspect and a man against whom the Courts had issued several arrest warrants.
He said there were many other cases at several provincial courts as well and more than one hundred warrants had been issued for his arrest. The Judge said although he had ordered the police to arrest the suspect earlier the police never arrested him and pointed out that if the police had arrested him earlier the suspect would not have fallen to the present level. Such acts would tarnish the image of Sri Lanka internationally and might even prevent aid being given to Sri Lanka, he stressed.
Meanwhile, Human Rights and social activists and trade unions yesterday expressed their dismay over the shocking disclosure by High Court judge Rajapaksa which is an indictment on the country's prison system and the police.
Prominent Human Rights activist and senior lawyer J.C.Weliamuna said the High Court Judge's disclosure was a bad reflection of the police and prison system.
"This is the true situation of the country today and the law and order has deteriorated to a level of never return. It is quite obvious that criminals are protected by political hierarchy and the police and the administration system have highly politicized," Mr. Weliamuna stressed.
The police inaction is such that they cannot take a decision without consulting local political authority and would never arrest a criminal if he has the political backing, he added. Government Medical Officers Association President Dr. Anuruddha Padeniya said no country could march towards development without honouring the rule of law. "It is quite obvious that the rule of law has got a beating and civil society is at a cross road as the number of people who do not pay any respect to the law of the land is increasing rapidly. A country could be developed only with law abiding citizens," Dr Padeniya stressed.
Ceylon Teachers Union General Secretary Joseph Stalin said politicians used thugs for their political work during elections and now those thugs create mayhem with the backing of their political masters as they had no other work to do.
BY SANDUN A. JAYASEKERA
Source: Daily Mirror – Sri Lanka