World-renowned Swiss photographer René Burri, known among others for his portraits of revolutionary hero Che Guevara and artist Pablo Picasso, died Monday in Zurich at the age of 81.
Burri, who was born in Zurich in 1933 and later moved to Paris, was hired by the prestigious Magnum agency in 1955, and travelled around the world documenting the major political events of the 20th Century.
Burri was only 13 years old when he photographed British Prime Minister Winston Churchill standing in an open-top car during a visit to Switzerland in 1946.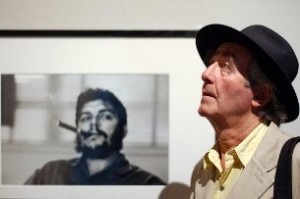 The photographer's famous photo of cigar-chomping Che was taken in 1963 during a trip to Cuba.
He also captured a number of artists, including sculptor Alberto Giacometti and architect Le Corbusier.
Burri's photographs received a number of awards and were presented in numerous exhibits, including one at the Museum for Design in his home town of Zurich in 2013.
In 2011 the photographer was awarded CHF20,000 ($21,215) and the Swiss Press Photo Life Time Achievement Award by the Foundation Reinhardt von Graffenried.
Burri's longtime friend Michael von Graffenried, a Bernese photographer, confirmed Burri's death on Monday.
swissinfo.ch and agencies