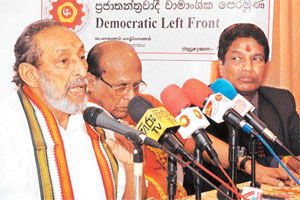 Vasu at Nallur
Democratic Left Front (DLF) leader Vasudeva Nanayakkara recently ruled out the possibility of a federal solution to the national issue. Addressing the media at Nallur, Jaffna, Minister Nanayakkara pointed out that people would have to accept Provincial Councils as any attempt to go beyond that would cause a catastrophe. Senior Minister DEW Gunasekera was present.( Pic courtesy National languages Ministry)


The Northern Provincial Council (NPC) to be elected on Sept. 21 would not be given more powers than those already enjoyed by other PCs, the government said yesterday.
Addressing a media conference, at the Sri Lanka Freedom Party Headquarters, National Languages and Social Integration Minister Vasudeva Nanayakkara said that even if the Tamil National Alliance (TNA) won the NPC election, the council would not be given more powers than others and all council funds would be overseen by the Finance Commission of the government.
Minister Nanayakkara said the UPFA could easily win the North-Western and Central Provincial Councils, but was uncertain of the outcome in the Northern Province.
Answering a query, the minister said that the TNA could demand a separate government or self-administration in the Northern Province through an election manifesto, but under the Sri Lankan Constitution that could not be given.
"Only the President and Parliament could decide on the powers to the Northern Provincial Council and that fact has been recognised by the Constitution," Nanayakkara said.
The Constitution was the country's supreme law and no one could go against it, he said.
Minister Nanayakkara said that the main allegation levelled by Opposition against the government was the military presence in the Northern Province. But, during the last six months that situation had changed as the military presence had been reduced by 95 per cent.
"We have also allowed unimpeded access to local and international monitors to observe the election," Nanayakkara said, adding that the monitors from the Commonwealth, SAARC countries and local monitors would observe the election.
Western Province Chief Minister Prasanna Ranatunga said that the government had been able to send the people of the northern from bunkers to polling stations.
He said that the child soldiers recruited by the LTTE administration were now going back to school like normal children.
Colombo Municipal Council member Mohamed Muzammil said that the LTTE leader, Prabhakaran, had 'taken the Tamil community back by 30 years' and the TNA was now making the same mistake.
The TNA's main candidate Vigneswaran was spreading racism and obstructing reconciliation among ethnic groups after 30 years of war, he said.
Muzammil asked the people to vote for a national political party, which was against racism, at the Sept. 21 polls.
By Dasun Edirisinghe
IS