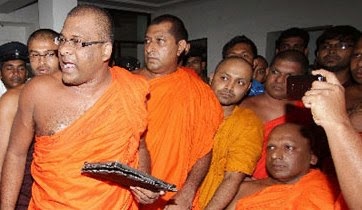 BBS violence
Several Muslim Parliamentarians are considering boycotting Parliament sessions if action is not taken to control the "terror" activities of the Bodu Bala Sena. Minister of Industry and Commerce Rishad Bathiudeen said that the proposal to boycott Parliament is still being discussed and a final decision has not been reached.
The police have already summoned Bodu Bala Sena General Secretary, the Venerable Galaboda Aththe Gnanasara thero, to give a statement over his verbal threats on a monk and a Muslim cleric earlier this week.
Sri Lanka Muslim Congress General Secretary Hassan Ali said that if the Government fails to take action to prevent extremist groups from having a free hand then boycotting parliament is one way to get a strong message across.
Galaboda Aththe Gnanasara thero verbally abused a Buddhist monk and a Muslim cleric after storming the venue of the press conference organised by the Jathika Bala Sena this week.
Gnanasara thero and a group of people prevented the press conference led by the Venerable Watarekke Vijitha Thero from taking place and verbally abused the Buddhist monk when he was about to brief the media at the Nippon Hotel.
The press briefing was organised by some monks and Muslims to brief the media against allegations that a new resettlement colony was being constructed with funds from a Donor Agency and named as Jassim City inside the Wilpattu National Park.
Gnanasara verbally abused the monk at the press conference venue and when the Muslim Cleric attempted to intervene he was also verbally abused.
The BBS said that a Buddhist has no right to speak on behalf of Muslims and threatened to disrobe the Venerable Watarekke Vijitha Thero in front of the media.
"Shut up," the Venerable Galaboda Aththe Gnanasara thero kept shouting at the Muslim cleric and others when they attempted to express their views.
The incident took place in the presence of police officers who stood there but did not intervene. Once the BBS members and supporters left the venue the police escorted the Venerable Watarekke Vijitha Thero out of the venue.