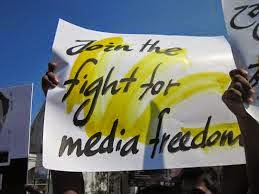 A squad led by UPFA provincial councillor from Mannaar Rifghan Badurdeen, who is the brother of controversial SL minister Rishard Badurdeen, entered the office of the 'Puthiyavan' newspaper in Mannaar on Thursday and issued death threat to its editor SV Sivakaran, who is also the leader of the youth wing of the Ilankai Thamizh Arasuk Kadchi (ITAK). The squad, led by Rifghan Badurdeen also threatened to curb the distribution of the newspaper and to set fire to the office, which is situated at Chinnak-kadai on Mannaar main road, the editor of the paper said.
The Badurdeen squad, already known for inciting violence and hatred between various Tamil speaking communities in Mannaar, has issued death threat to the paper editor following an article on land grab in Mannaar.
Tamil landowners have lodged complaints with the SL police and SL Human Rights Commission against Rifghan Badurdeen and his squad involved in illegal encroachment of their lands.
But, there has been no action against the illegal land grab, as the squad causing disharmony in the district, is being protected by Rishard Badurdeen, the gangster minister from Mannaar.
Two years ago, SL minister Badurdeen went on record in SL parliament issuing a threatening statement against the Bishop of Mannaar causing widespread protests against him in the North.
Mr Sivakaran has filed a complaint with Mannaar Police on the threat issued to him and the paper.
Puthiyavan paper, recently launched in Mannaar, is an independent voice, the editor says.
The paper has also voiced its criticism on the conduct of the elitist politicians of the Tamil National Alliance and the inability of the Northern Provincial Council (NPC) in taking forward the Tamil politics. It became a topic of discussion at a recent meeting held in Jaffna for TNA councillors of the NPC