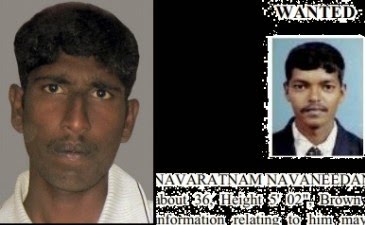 Gobi
Former LTTE member Gobi and two others were killed following a confrontation with the army in Vavuniya late last night, the army said today. Army spokesman Brigadier Ruwan Wanigasooriya said that an exchange of gun-fire had taken place at Nedunkerni when soldiers had confronted Gobi and two other former rebels who were armed. The three former rebels, including another suspect identified as Appan, were killed during the confrontation and one of them was identified as Gobi.
This is the first time since the end of the war in May 2009 that a clash had taken place between LTTE members and the army.
A massive search operation had been launched recently in the north for Gobi and Appan. Both men were believed to have been involved in an attempt to revive the LTTE in Sri Lanka.
The police had later offered Rs one million as a reward to any information which could lead to the arrest of Kajadeepan Selvanayagam, alias Gobi.
The UN Human Rights Council (UNHRC) was also informed recently that the LTTE was regrouping in the North under Gobi.
In a right of reply at the 25th Session of the Human Rights Council, the Sri Lankan delegation said that Gobi who had been overseas and returned to Sri Lanka, was actively involved in reviving the LTTE through regrouping LTTE cadres and recruiting unemployed local youth with the intention of using them for acts of terrorism.
The Sri Lankan delegation said that the intention of these LTTE operatives headed by Gobi had been to recover arms cachés hidden by the LTTE prior to their defeat.
Following further investigations, the Terrorist Investigations Division (TID) had recovered an arms caché including mortar and RPG type live ammunition, 3 hand grenades, 2.5 kg claymore bomb and ammunition for T-56 weapons.
Sri Lanka told the UNHRC that pursuant to the recovery of the weapons and a lead obtained on the whereabouts of Gobi, a team of Police Officers proceeded to the residence of Tamil activist Balendran Jeyakumari in Killinochchi. During the search operation Gobi had fired at the Police, injuring a sub-Inspector and escaped. (
Colombo Gazette
)