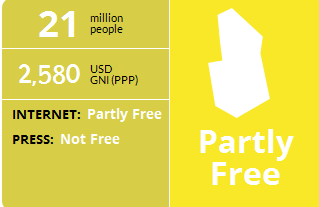 The media in Sri Lanka are not free, according to a new report by the Freedom House, an independent watchdog organization dedicated to the expansion of freedom around the world.
From a score of between 0 and 100 with the lowest score an indication there is considerable amount of press freedom, Sri Lanka has been given a score of 76 while Norway and Sweden are among the top ranked with scores of 10 each.
The 'Freedom of the Press 2014' report by Freedom House notes that the internet is partly free in Sri Lanka but press is not.
Overall the report says global press freedom has fallen to its lowest level in over a decade. The decline was driven in part by major regression in several Middle Eastern states, including Egypt, Libya, and Jordan; marked setbacks in Turkey, Ukraine, and a number of countries in East Africa; and deterioration in the relatively open media environment of the United States.
Freedom of the Press 2014 found that despite positive developments in a number of countries, most notably in sub-Saharan Africa, the dominant trends were reflected in setbacks in every other region.
"We see declines in media freedom on a global level, driven by governments' efforts to control the message and punish the messenger," said Karin Karlekar, project director of the report. "In every region of the world last year, we found both governments and private actors attacking reporters, blocking their physical access to newsworthy events, censoring content, and ordering politically motivated firings of journalists."
"In 2013 we saw more cases of states targeting foreign reporters and media outlets," Karlekar added. "Russian and Chinese authorities declined to renew or threatened to withhold visas for prominent foreign correspondents, but the new Egyptian government went a step further by detaining a number of Al-Jazeera staff on charges of supporting terrorism." (
Colombo Gazette
)