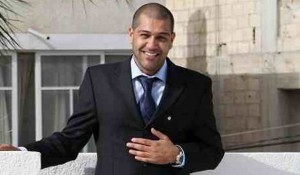 Red Cross worker Khuram Shaikh
British Labour party Parliamentarian Simon Danczuk has expressed fears of a cover-up by the Sri Lankan Government after Red Cross worker Khuram Shaikh was murdered last Christmas.
Speaking as the first anniversary of Khuram's death approaches, he said he was worried the Government was trying to "quietly drop the case to protect a local politician".
Khuram was shot and stabbed on Christmas day in the resort of Tangelle after he tried to act as peacemaker to rescue a local restaurant owner who was being harassed by a group of drunks.

But now, almost a year on, the eight have been released on bail, no charges brought and there is no trial in sight. The politician has been accepted back into the ruling party and there are growing concerns that the investigation is being dogged by "political interference".
Adding that the eyes of the world would be on Sri Lanka next year, as they host the Commonwealth heads of Government summit, he said the Prime Minister should consider boycotting the meeting.
"David Cameron should think twice about attending this meeting while British nationals are being brutally murdered in Sri Lanka with local politicians implicated and their Government is not even prepared to investigate properly," he said.
Calling on Foreign Office Minister Alistair Burt to make more robust representations to the Sri Lankan Government at a lack of progress in the case, he said their counterparts needed to be reminded of how valuable British tourism is.
"Every year thousands of British tourists visit Sri Lanka," he said, "and what happened to Khuram could happen to anyone. It's not enough to keep building.
Simon Christopher Danczuk has been the Member of Parliament (MP) for Rochdale since 2010.(itv.com)
DM
One year on: remembering Khuram Shaikh

–

It is disappointing that one year on the case has yet to make it to trial
Robbie Bulloch
– Deputy High Commissioner to Sri Lanka and the Maldives
As I settle in to enjoy the holidays with my family back in London I can't help but reflect on the tragic death of Khuram Shaikh who was killed in Sri Lanka on 25 December last year.
I was in Colombo at the time and received a phone call early on Christmas morning to inform me of the devastating news: Mr Shaikh, a British national, had been attacked and killed by a group of local men at a resort near the southern town of Tangalle.
When such awful events occur, our first priority is to verify the news and then to work with colleagues in the UK to get in touch with the family before they hear about it from the media: an increasingly difficult task with such rapid global communication.
I was relieved that we managed to do this but it would have been small comfort to Mr Shaikh's family who had to receive such shattering news that day. The events were shocking for the people of Sri Lanka too, a country which has been trying to put its bloody past behind it and which is slowly rebuilding its tourist industry after almost 30 years of conflict.
Many Sri Lankans were personally touched by the story of this young man who had given so much to others through his humanitarian work with the International Red Cross.
Dealing with such a tragic and senseless loss is made even more difficult when a death happens overseas. Khuram's brother, Nasser, came out to Colombo in January to try to make some sense of what had happened.
It must have been a very bewildering and difficult time. It was at least encouraging for him to learn that the key suspects had been detained and to hear that the Sri Lankan authorities were hopeful for a swift prosecution.
But given the quick arrests and early assurances it is disappointing that one year on the case has yet to make it to trial. And while it may be legal, it must also be difficult for Mr Shaikh's family to learn that the suspects have recently been released on bail.
As a diplomatic mission, we can't and shouldn't get involved in the particulars of the case. But we do share the frustration of the family that the perpetrators of a very brutal murder have yet to be brought to trial. I know that this is a frustration shared by many Sri Lankans too.
As I get to enjoy time with family and friends in London this year, my thoughts go out to Khuram's family for whom the festive period will always be a reminder of their tragic loss.
December 17, 2012
GC