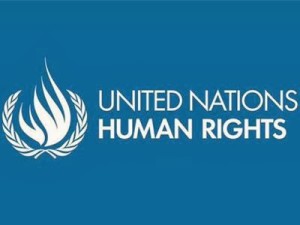 Without cooperation from States, we cannot do our work for human rights – Key UN expert group
GENEVA (10 December 2013) – The largest body of independent experts in the United Nations Human Rights system today urged world governments to cooperate with them, and allow human rights organisations and individuals to engage with the UN "without fear of intimidation or reprisals."
"Over the years more than 160 UN member States have been visited by at least one of our human rights experts, and a total of 106 States have extended an open invitation to special procedures," Mr. Chaloka Beyani said on behalf the group charged by the UN Human Rights Council to report and advise on specific country situations and thematic issues in all parts of the world.
"However, around 30 States have not yet accepted a visit by any of our experts," he stressed. "Others have given access to only a select few. "Unfortunately, it has become a reality that a standing invitation cannot necessarily guarantee that a visit will actually take place." (Country visits since 1998)
Mr. Beyani recalled that, since the first special procedures mechanism was established over 40 years ago in 1965, the independent experts have fostered national debate on human rights issues and helped States to revise their legislation and respond to the expectations of victims of human rights violations. "Cooperation is mutually beneficial," he said.
"The work we do relies heavily on our interaction with civil society, national human rights institutions, human rights defenders, other individuals working on the ground and victims of human rights violations," the expert explained.
"It is of utmost concern that some of these become victims of intimidation and reprisals. The protection of these vital partners is of utmost importance," he said, calling on world Governments "to respond firmly against any act which threatens them and seeks to obstruct human rights work."
Mr. Beyani underlined that reprisals are a critical challenge facing the UN system and its human rights mechanisms. "We call for the designation of a focal point on the issue of intimidation and reprisals as soon as possible," he said on behalf of the largest body of independent experts in the UN Human Rights system.
The United Nations human rights experts are part of what it is known as the Special Procedures of the Human Rights Council.Special Procedures, the largest body of independent experts in the United Nations Human Rights, is the general name of the independent fact-finding and monitoring mechanisms of the Human Rights Council that address either specific country situations or thematic issues in all parts of the world. They are charged by the Human Rights Council to monitor, report and advise on human rights issues. Currently, there are 37 thematic mandates and 14 mandates related to countries and territories, with 72 mandate holders. In March 2014, three new mandates will be added.
Special Procedures experts work on a voluntary basis; they are not UN staff and do not receive a salary for their work. They are independent from any government or organization and serve in their individual capacity
Learn more about: