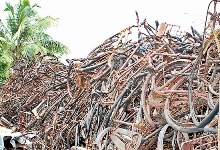 Left overs of the Final Battle (ST)
Jaffna University Teachers Association (JUTA) President, Dr A. Rasakumaran who was questioned by the Terrorism Investigation Department (TID) for his involvement in organising a commemoration ceremony in remembrance of those who lost their lives in the war's final phase, says he did not do anything illegal.
"I did not do anything against the law. We have the right to remember our lost ones. There are no such rules in the Prevention of Terrorism Act (PTA) that says we cannot commemorate those who died in the final battle," he said.
Dr Rasakumaran, summoned by Jaffna Security Forces Commander Maj. Gen. Udaya Perera to Palaly for an inquiry over the same issue, said, he feels insecure nowadays and fears for his life.
Military spokesman Brig. Ruwan Wanigasooriya said the LTTE is a proscribed organisation in Sri Lanka and it is illegal to organise gatherings to commemorate members of the group.
"People who lost their loved ones can remember them according to their religious beliefs. The reason the army was deployed in temples and churches in Jaffna was for their own safety," he said.
Meanwhile, Jaffna University undergrads observed a two-day strike from Thursday and did not attend lectures in protest over death threats they received for attempting to hold a Mullivaikkal remembrance ceremony.
A leaflet carrying the threats had been distributed, which said, this was the "final warning" while accusing them of trying to resurrect terrorism.
Student Union Head P. Subankan said they are boycotting classes because of anonymous threats to the University's staff and students.
"Authorities in charge should try and create an environment conducive to learning within the university, without political and military intrusions. How can we engage in educational activities when nobody feels safe in the university?" he asked.
Federation University Teachers' Associations (FUTA) President, Chandragupta Thenuwara strongly condemned the attempts to intimidate the academic staff and students who participated in the memorial ceremony at Jaffna University.
"This is a good example of militarisation of the university system," he said.
Jaffna University's Vice Chancellor and Registrar declined to comment