The Australian
JULIE Bishop has denied the Australian government was going soft on alleged human rights violations in Sri Lanka in return for Colombo's cooperation on asylum-seekers, saying her attendance at the Commonwealth summit was "not a PR exercise".

While other Commonwealth nations have taken a tough stand over alleged human rights abuses in Sri Lanka, with the Canadian and Indian prime ministers boycotting the event and Britain's David Cameron leaving the door open to supporting an international war crimes inquiry, Prime Minister Tony Abbott and Ms Bishop have insisted they will "not lecture" the government on human rights. Ms Bishop said she had met both opposition Tamil National Alliance MPs and government ministers during her two days in the Sri Lankan capital leading up to today's Commonwealth Heads of Government Meeting (CHOGM), where Mr Abbott will pass the Commonwealth chair to President Mahinda Rajapaksa.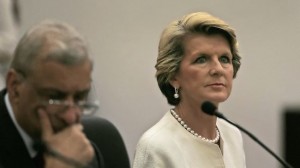 Foreign Minister Julie Bishop, right, listens to a speaker during the Commonwealth Ministerial Action Group meeting in Colombo, Sri Lanka. Source: AP
"Attending CHOGM is not a PR exercise on our part," she said, adding she had "raised human rights issues in all of my meetings with Sri Lankan ministers" and encouraged the government "to continue down the path of reconciliation". But Sri Lanka's situation had to be "put in context". "It was only four years ago when a 30-year-old civil war came to an end and in that time there's been significant reconstruction work. It was a very bloody conflict by all accounts.
The LTTE was one of the most notorious terrorist organisations and the Sri Lankan government was determined to stamp it out." "It deserves credit for having rid the world of a dangerous terrorist organisation."
Both Canada and the United States have called for an international investigation into allegations of war crimes, including indiscriminate shelling of civilian targets by both sides during the final months of the war.
The UN estimates as many as 40,000 civilians were killed in the last five months to the May 2009 climax, though the government puts the death toll at 7700. UN Human Rights Council special envoy Navi Pillay also delivered a damning assessment of the Sri Lankan government following a recent fact finding visit to the country, accusing it of increasing authoritarianism, intimidation of media and human rights organisations and of compromising the independence of the judiciary.
The Sri Lankan government has taken an increasingly heavy hand to its detractors in recent days and weeks, allowing pro-government blockades of western journalist teams and parallel human rights events even while obtaining a court order to prevent any opposition protests in Colombo over the next few days.
Last weekend it briefly detained Australian Greens Senator Lee Rhiannon and NZ MP Jan Logie, less than an hour before they were to hold a press conference calling for the cancellation of CHOGM because of continued human rights violations there. But Ms Bishop said she saw no reason to flag concerns with the Sri Lankans over the Ms Rhiannon's detention, despite the fact the government had advised Colombo of her intended visit, because the senator "had not raised the issue" with her.
Tony Abbott campaigned relentlessly on the issue of asylum seekers in the lead up to the federal election, and his political credibility relies on ensuring he can deliver on his promise to "stop the boats". For that he remains heavily reliant on the Sri Lankan government's cooperation and so cannot afford to alienate the Rajapaksa government lest it ease the current crackdown on the people smuggling trade there.
Ms Bishop said she was heartened by the arrest of several Sri Lankan naval officers in recent months allegedly involved in people smuggling, notwithstanding reports that one senior officer was simultaneously organising boats as he was briefing Australian officials on the people smuggling trade.
"The fact that they have been arrested indicates the Sri Lankan government is serious about working in partnership with Australia to crack down on the people smuggling trade," she said.
by: Amanda Hodge in Colombo