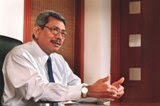 Defence Secretary Gotabhaya Rajapaksa yesterday alleged that the UK government was acting as if Sri Lanka were still a British colony. The actions of some of the British representatives here for the Commonwealth Heads of Government Meeting (CHOGM) had undermined bilateral relations, Rajapaksa said.

He was responding to statements attributed to UK Foreign Secretary William Hague and Minister of State at the Foreign and Commonwealth Office Hugo Swire at the British High Commission and Chaaya Tranz, Hikkaduwa, respectively.
Defence Secretary Rajapaksa said that they would never have behaved in such a way in any other country. Recalling former UK Foreign Secretary David Miliband's admission that he spent two-thirds of his time on Sri Lanka due to a very vocal Tamil Diaspora in the UK, numbering over 300,000, the Defence Secretary emphasized that the situation remained the same, though Labour lost the last parliamentary election to pave the way for a Conservative-Liberal Democrat administration.
Their criticism was meant to create a hostile environment ahead of President Mahinda Rajapaksa's meeting with UK Prime Minister David Cameron on Friday (15), he alleged. The meeting will take place soon after PM Cameron returns from Jaffna.
The Defence Ministry has made available a special SLAF flight for the convenience of the British delegation.
Asked whether the government was concerned about the UK threat to push for an international war crimes investigation, unless the incumbent administration addressed accountability issues to the satisfaction of the global community, the Defence Secretary alleged that the British approach was unreasonable as well as inappropriate. He said: "A section of the international community is demanding a credible local investigation. But, accusations directed at us are based on information provided by nameless people whose identities are known to the UN Secretary General's Panel of Experts (PoE) and the UK media outfit, Channel 4 News. They allege the final battle claimed the lives of 40,000 people."
The British should explain whether any country accused of killings on such a scale would accept the PoE's recommendation that its 'sources' would remain classified for 20 years, since the release of the report on March 31, 2011.
According to the PoE report, the three panelists, Marzuki Darusman (Indonesia), Steven R. Ratner (US) and Yasmin Sooka (South Africa) had received over 4,000 submissions from 2,300 persons, in response to a notice posted on the UN website on October 27, 2010.
The continuing refusal to name sources on the basis of confidentiality of the PoE's records meant such a report/evidence couldn't be acceptable in any court of law or special investigative mechanism, the Defence Secretary said. "Disclosure of credible sources is necessary to facilitate investigations. If the UK is keen for credible investigations, it should urge Channel 4 News as well as the UN to produce those eyewitnesses before international judicial authorities, without further delay."
He said that Sri Lanka couldn't be hauled up before an international war crimes probe on unsubstantiated allegations. It would be pertinent to mention that over a decade after the invasion of Iraq, on the basis of false UK intelligence reports, the UK was yet to finalise a domestic inquiry into the war. None other than UK Deputy Prime Minister Nick Clegg, of the Liberal Democratic Party had admitted in parliament that the invasion of Iraq was illegal. "The Iraq war inquiry report is yet to be released, though the UK accuses Sri Lanka of failing to implement the recommendations made by the Lessons Learnt and Reconciliation Commission."
by Shamindra Ferdinando /IS