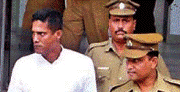 Tangalle High Court Judge Chandrasena Rajapaksa in a disclosure in court said he had come to know that Geeganagamage Amarasiri alias Julampitiye Amare who had more than a 100 arrest warrants against him had visited an inmate at the Tangalle prison last week.

He said and it was a prison officer who had opened the gate for him.
The judge said this was how prison officers had treated a murder suspect and a man against whom the Courts had issued several arrest warrants.
After remanding Amarasiri, who is a main suspect in last Friday's killing of two JVP activists at a meeting in Katuwana, the judge observed that there were four cases against the suspect in the High Court.
He said there were many other cases at several provincial courts as well and more than one hundred warrants had been issued for his arrest.
The Judge said although he ordered the police to arrest the suspect earlier the police never arrested him and pointed out that if the police had arrested him earlier the suspect would not have fallen to the present level.
He said such acts would tarnish the image of this country internationally and might even prevent aid being given to Sri Lanka.
On a request made by the CID Judge Rajapaksa directed the prison authorities to produce Julampitiye Amare at an identification parade at the Walasmulla Magistrate's Court on June 29 with regard to the killings at Katuwana.
The suspect who surrendered to Tangalle High Court on Tuesday and remanded till yesterday was further remanded till July 11.
The CID said Amarasiri was a suspect in the shooting at Katuwana on June 15 where two JVP activists were killed.
The judge said some people who stood surety for the suspect are in jail. He issued warrants against the other sureties to appear before the High Court on July 11 and ordered Tangalle, Walasmulla, Middeniya, Katuwanaand Weeraketiya police to implement the order.
The judge said the court had to provide protection to anyone who asked for it and would provide protection to the suspect as he asked for it. However, the Judge observed that the two T-56 assault rifles were still not handed over to the court by the suspect.
The Judge said the suspect appeared to fear for his life and added that the victims too would have felt the same kind of fear.
State Counsel Nadee Aparna Suwadurugoda prosecuted. Counsel Nishantha Sadaharana appeared for the suspect. (Ariyadasa Kodituwakku)
DM