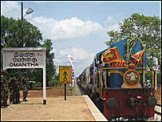 Check point Omanthai
Authorities in Sri Lanka have prevented a group of journalists from visiting northern Sri Lanka despite assurances that there will be no restrictions to travel to the north.
Dinasena Ratugamage who was among the group says security force personnel at Omanthai checkpoint told him not to take photographs or interview people, local and foreigners, waiting to visit north on Wednesday.

He was not allowed to cross the check point without prior permission from the ministry of defence (MoD).
On Monday, the government announced that restrictions on journalists and foreigners have been removed.

Media ministry
Director General of Media Centre for National Security (MCNS) Lakshman Hulugalle earlier told BBC Sandeshaya that restrictions imposed for travelling to north for foreign nationals has been removed since Monday.
"We decided to remove restriction on journalists to travel to the north last month. The defence ministry has decided to remove similar restrictions on everybody from today," he said.
He added that restrictions are still in place for NGO workers.
But journalist Ratugamage says he was told by the officer in charge at the check point that he needed clearance from the MoD although he showed newspaper cuttings that announced the withdrawal of restrictions.
Military spokesperson Maj Gen Ubhaya Medawala told BBC Sinhala service that the military is no longer responsible for dealing with journalists.
From now on, he said, media ministry is the authority on permitting – or not permitting – media personnel travelling north.